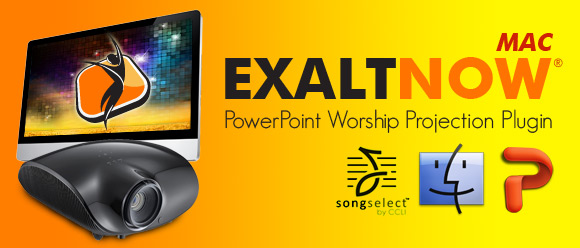 The highly anticipated Mac release of the hugely popular ExaltNow Worship Plugin for PowerPoint has arrived. Today Sharefaith.com, the largest church website and worship media producer, released this revolutionary plugin, giving PowerPoint users on both Mac and PC the ability to add pro worship projection functionality inside PowerPoint 2011 for Mac.
What Does ExaltNow Mac Do?
ExaltNow enhances the ability of PowerPoint 2011 for Mac, making it function as a versatile worship planning and projection software. ExaltNow Mac gives users the ability to add lyrics or text over any MP4 video loop (HD, SD) as well as search, select, and import any worship lyrics or chord sheets from CCLI's SongSelect database.
Why A Mac Version Of ExaltNow?
With hundreds of churches now using ExaltNow for PowerPoint on a PC, requests poured in to bring this amazing functionality to PowerPoint on a Mac. Millions of church media directors and pastors love the beauty and simplicity of a Mac, but still prefer the familiarity of PowerPoint instead of Keynote. Unfortunately, PowerPoint lacks the ability to function as a worship projection system tailored for churches. ExaltNow Mac makes this problem a thing of the past!
Who Should Use ExaltNow Mac?
Priced at only $69.99, ExaltNow Mac comes with 2 licenses and 30 free worship video loops. Churches with tight media budgets, enjoying the ease of PowerPoint, but frustrated with its lack of worship-related functionality, will reallybenefit from this revolutionary tool that transforms PowerPoint Mac 2011 from being just a business presentation tool into a full-fledged worship projection software system. If your church wants to add lyrics over any video loop, and have access to an integrated worship database with hundreds and thousands of lyrics and chord sheets, then ExaltNow is perfect for you!
See more information on ExaltNow Mac.
Does It Come With Media?
Users looking for more worship media than the 30 free videos and PowerPoint templates that come with your ExaltNow purchase, can sign up for a one year Sharefaith membership, which gives them access to the largest worship media library in the world. For only $149, users get access to over 40,000 church and sermonPowerPoints, videos, and backgrounds tailored for every church event or season of the year!