---
July 8, 2013
Top 120 Best Worship Songs Sung Around The World
Comments off · Posted by Sharefaith Team in Church & Worship Related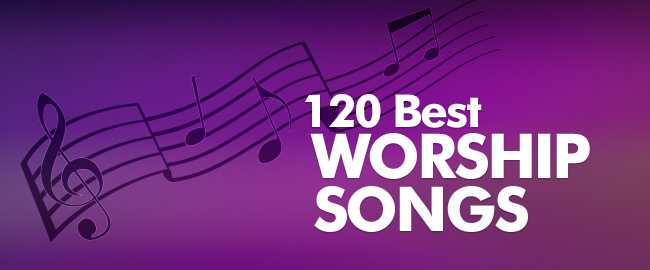 In the U.S. and across the world, there are standout worship songs sung every Sunday of the year by millions of believers. We have assembled an alphabetical list of 120 worship songs that we have gathered through surveys to provide you with the ultimate worship song set list. Feel free to use this post as your go-to-list for worship songs. Also, feel free to comment and suggest more so we can grow the list!
Best Worship Songs – Worship Song Set List:
Above All
Agnus Dei
All Because Of Jesus–FEE
All To Us
All Who Are Thirsty
Always
Amazed
Amazing Grace (My Chains Are Gone)
As The Deer
At The Cross
Awakening
Awesome God
Awesome Is The Lord Most High
Beautiful One
Better Is One Day
Blessed Be Your Name
Blessings
Breath
Came To My Rescue
Come Let Us Adore Him
Come Now Is The Time To Worship
Days Of Elijah
Desert Song
Draw Me Close
Eagles Wings
Enough
Everlasting God
Forever
Forever Reign
Friend Of God
From The Inside Out
Give Thanks
Give Us Clean Hands
Glory To God Forever
God Is Able Hillsong Live
God Of This City
God Of Wonders
Grace Flows Down
Great I Am
Great Is Thy Faithfulness
Hallelujah
Happy Day
He Is Exalted
He Knows My Name
Healer
Healing Is In Your Hands
Here I Am To Worship
Holy Is The Lord
Hosanna (Praise Is Rising)
Hosanna–Hillsong
How Can I Keep From Singing
How Deep The Father's Love For Us
How Great Is Our God
How Great Thou Art
How He Loves
How Marvelous ( I stand amazed)
Hungry
Hungry
I Am Free
I Could Sing Of Your Love Forever
I Give You My Heart
I Love You Lord
I Will Follow
I Will Rise
I Will Rise
In Christ Alone
Indescribable
It is well with my soul
Jesus Messiah
Jesus Paid It All
Jesus Saves
Joy To The World (Unspeakable Joy)
Lead Me To The Cross
Let God Arise
Let It Rise
Lord I Lift Your Name On High
Lord I Need You
Lord Reign In Me
Love The Lord
Majestic
Majesty
Marvelous Light
Mighty To Save
My Redeemer Lives
My Savior My God
Not To Us
O Praise Him
Offering
Once Again
Open The Eyes Of My Heart
Our God
Our God Saves
Revelation Song
Salvation
Sanctuary
Shine Jesus Shine
Shout To The Lord
Sing Sing Sing
Sing To The King
Stay Amazed
Stronger
The Heart Of Worship
The Standd
Today Is The Day
Trading My Sorrows
Victory In Jesus
We Fall Down
Wonderful Merciful Savior
Worthy Is The Lamb
You Are God Alone (Not A God)
You Are Good
You Are Holy (Prince Of Peace)
You Are My All In All
You Are My King
You Never Let Go
You're Worthy Of My Praise
Your Grace Is Enough
your great name
Your Love Never Fails
Your Name

No tags
Comments are closed.
<< Church Websites Rejoice! The Fastest Website Editor Just Got Faster!