Today marks a huge leap forward in the world of church and ministry websites. Sharefaith's already popular church websites just launched their new revolutionary Editor Pack. This awesome feature gives incredible time-saving, easy-to-use, front-end content and graphics editing capabilities right within the website. The Editor Pack comes at no additional charge. It's free to all Sharefaith church website users and automatically included in your website control panel.
Why Is The Content Editor So Amazing?
In the past, users had to edit and control the entire website from the backend control panel. With the new content editor, you can now edit your content live on your website, without going to the control panel. Simply click the section you want to edit, make your changes, and click save. Boom! It's updated right there. View Now!
The Graphics Editor Saves You Time? 
Crop, resize, color, style, and edit — these are just a few amazing features of the new built in graphics editor. You can now change, edit and create new rotating banners and other graphics right within your website control panel without the need for outside imaging software. This does not replace Photoshop. It is a revolutionary tool to help on-the-go pastors design and update rotating banners and imagery on the fly. View Now!
In Just Nine Months Almost 2,000 Churches Chose Sharefaith Websites! 
It's simple! We have the best customer support, the lowest price, and a mind-blowing simple toolset for creating and maintaining a professional online church presence.
The Best 30 Day Website Promotional Sale On The Planet! Don't Miss Out!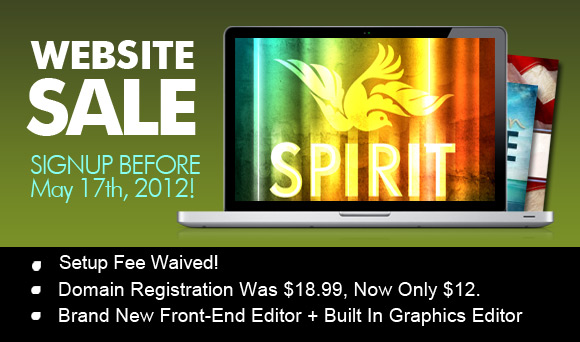 For the next 30 days we are waiving the church website setup fee for monthly subscribers, and we're dropping the domain registration price from $18.99 to only $12! These are incredible savings! Now is the perfect time to get your church website!