Plan your services, simply.​
Organize, plan and schedule every detail of your service.
Trusted by 120,000+ churches across the United States
"The ability to schedule my team is great. Especially since we have 5 different teams with many members. Also, the songs library with the stats on when I've played a song last is a lifesaver."
"WorshipPlanning.com has revolutionized the way I organize and distribute resources, plan worship, and manage teams. I wish I had a tool like this for the first years of my ministry – life would have been much easier!" -
"I love using this site - what a valuable tool it is! And the integration with LifeWay Worship has been HUGE."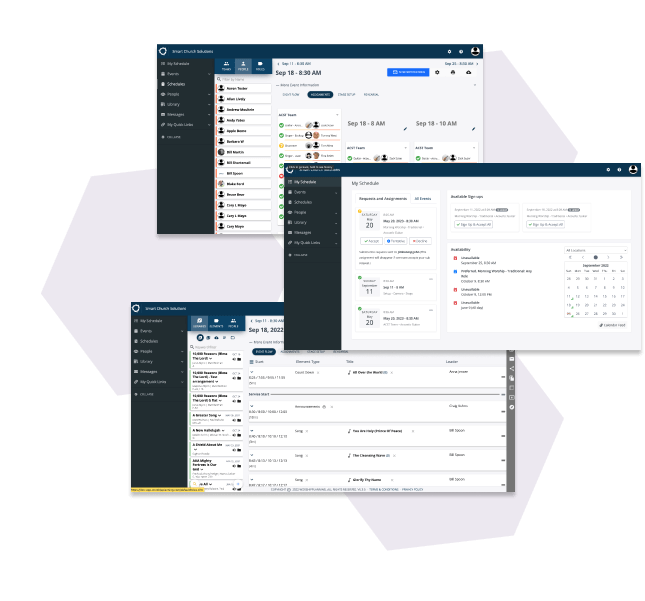 Plan
Your service details with an easy-to-use worship flow editor. Add or import song details, upload files, and add notes for yourself or your team.
Schedule and Notify
Team members are notified via email, text, and even Facebook. They can "accept" or "decline" invites and access set service details.
Update
Plans are centrally stored in the cloud, you and your team can securely access them from anywhere, instantly and make changes as needed.
Take charge of each service with purpose
Easily manage and engage with features designed for worship
Intuitive drag-and-drop worship flow editor allows you to plan the fine details, or just a general set list.
Store music files, integrate OnSong, maintain virtual sheet music and add worship cues including key, tempo, lyrics and more.
Communicate, notify, interact and schedule each service. Worshipplanning makes interacting with youre people, simple.
Plan, share, save and worship with smart features
File Storage
Song organizer
Mobile
Virtual Sheet Music
File Storage
Store and view files
Unlimited file storage in a cloud based central location. Store and organize with restricted access so files can only be accessed by authorized parties.
Activity and access reports
Built-in key transposer for MP3 files
Audio "stream only" option prevents unwanted downloading
Reporting requirements licenses
Song organizer
Mobile
Virtual Sheet Music
Already have a ShareFaith plan? Easily activate WorshipPlanning from your dashboard!
Internal planning features, get your team on the same page.
The plans for this Sunday are vital to you and your team. You need a tool that lets you easily specify every detail, and lets your team get to that information.
No doubt, volunteers are the key ingredient to success on Sunday mornings. Keep everyone on the same page with our advanced scheduling tool.
It is easy to go from worship flow to slides with a couple options. Our Presentation Software makes building your presentation a snap. Merge slides from other softwares and simply add
We offer a variety of support options to help new users & masters of the software. Give us a call, email or chat with us.
WorshipPlanning's cloud-based software makes it easy to organize and communicate.
intuitive functionality make quick work of organizing, planning, and scheduling your next service, your next series, or even the upcoming year!