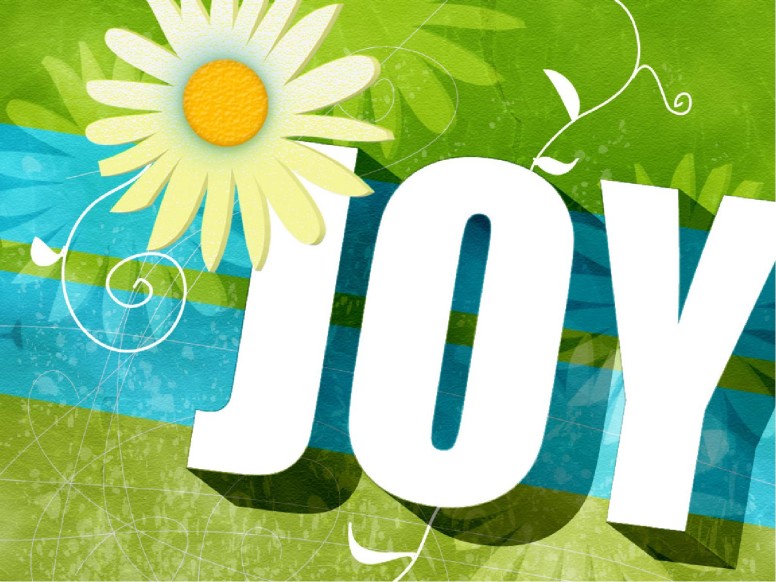 Joy is not the same as happiness. Happiness can be attained with a newly acquired object, a car, or clothing or appliance, for example. A sunny day can make someone happy, or a bouquet of flowers. Usually happiness is a result of something external. But joy is internal. It is not an emotion, but an inner appreciation and sense of satisfaction due to a spiritual reality.
For every Christian, the number one desire should be to experience joy even in the face of negative circumstances. In Hebrews chapter 12, believers who are tempted to become weary or discouraged. They are urged to recall examples of faith demonstrated by God's people who preceded them, taking into consideration all they endured and especially remembering Jesus Christ. "
let us lay aside every weight, and the sin which so easily ensnares us, and let us run with endurance the race that is set before us, looking unto Jesus, the author and finisher of our faith, who for the joy that was set before Him endured the cross, despising the shame, and has sat down at the right hand of the throne of God."
Jesus believed God's promise in Psalm 16:10: "
For You will not leave my soul in Sheol (the grave), nor will You allow Your Holy One to see corruption."
Jesus believed God would raise Him from death, and ultimately fulfill the remaining future prophecies concerning Him. He knew that his sacrifice would pave the way for the nations to come to God. Therefore Jesus could have joy inside. He did not focus on the immediate circumstances, he looked to the future, even while suffering an agonizing death on the cross.
Paul brought the Word of God to Thessalonica. Some people gladly received the Word, but as Acts chapter 17 reveals, there was a group of legalistic Jews who were hostile. The resistance intensified to the point that the entire city was rioting and out of control. The situation was so tense that Paul and Silas had to leave in the middle of the night.
Later, Paul sent Timothy to check on the believers and was joyful to hear Timothy's positive report of their steadfastness. For what thanks can we render to God for you, for all the joy with which we rejoice for your sake before our God. (1 Thessalonians 3:9) Even in the midst of chaos and opposition, the believers were joyful. And you became followers of us and of the Lord, having received the word in much affliction, with joy of the Holy Spirit. (1 Thessalonians 1:6)
Rather than external things being the cause of joy, the Bible shows that spiritual realities produce joy in a believer. In Psalm 16:11, the Psalmist writes, "
In Your presence is fullness of joy."
Being aware of God's presence in every situation produces joy. On the night of Jesus' arrest, at the last meal he shared with His disciples. Jesus taught them to retain the Word of truth, and then said His joy would remain in them, and they would experience fullness of joy (John 15:11). He also comforted them: "
You now have sorrow; but I will see you again and your heart will rejoice, and your joy no one will take from you."
(John 16:22)