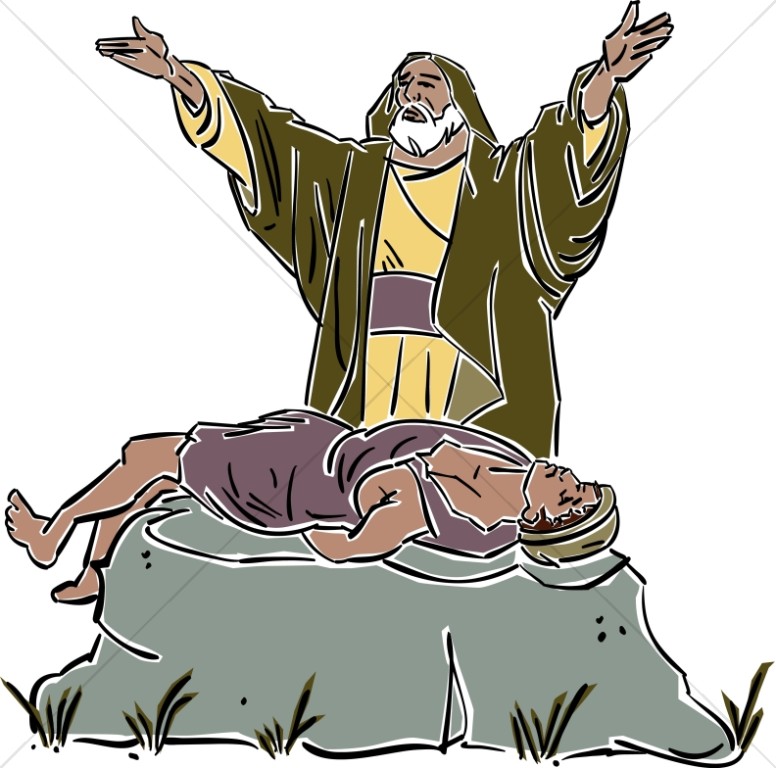 And the scripture was fulfilled which saith, Abraham believed God, and it was imputed unto him for righteousness: and he was called the Friend of God
." -- James 2:23
The life of Abraham is one of the most intriguing narratives in the Bible. His mind was so receptive to the voice of God, and his heart so ready to obey, that he is given distinctive titles in God's Word like no other.
Abraham was a very wealthy man, married to a beautiful woman, well respected in the surrounding area, and he was a man's man. When his nephew, Lot, and others, were taken captive from Sodom by warring kings and their armies, Abraham assembled his 318 highly trained men and hunted them down. At night, he and his men attacked the enemy armies and rescued Lot, his goods, and all the other men and women. The King of Salem, and Priest of the Most High God, Melchizedek, honored and complimented Abraham, and brought him bread and wine. Abraham recognized Melchizedek as an authority and gave him 10 percent of the bounty he had just secured.
Years later, the Lord said, "
Shall I hide from Abraham what I am doing, since Abraham shall surely become a great and mighty nation, and all the nations of the earth shall be blessed in him? For I have known him, in order that he may command his children and his household after him, that they keep the way of the Lord, to do righteousness and justice, that the Lord may bring to Abraham what He has spoken to him
."
And the Lord said, "
Because the outcry against Sodom and Gomorrah is great, and because their sin is very grave, I will go down now and see whether they have done altogether according to the outcry against it that has come to Me; and if not, I will know
."
Abraham asked God, "
Would you also destroy the righteous with the wicked
?" Abraham then showed his compassionate and intercessory heart, negotiating, so to speak, with God for the lives of any righteous people in Sodom. He asked the Lord to spare 50 righteous people. God responded to Abraham's plea. "
If I find in Sodom fifty righteous within the city, then I will spare all the place for their sakes
."
Abraham was humble, not haughty or disrespectful before God, concerned that God would be merciful in His judgment. "
Indeed now, I who am but dust and ashes have taken it upon myself to speak to the Lord: Suppose there were five less than the fifty righteous; would You destroy all of the city for lack of five
?" So He said, "
If I find there forty-five, I will not destroy it
."
The discussion went back and forth, until Abraham trimmed the number down to 10. "
Let not the Lord be angry, and I will speak but once more: Suppose ten should be found there
?" God replied, "
I will not destroy it for the sake of ten
." This exchange between God and Abraham is a unique and elevating passage of Scripture. God knew there were no righteous people left in Sodom, except Lot who barely qualified. Nevertheless, God accommodated Abraham, showing His patience and mercy.
God's promised son, Isaac, was born to Abraham and Sarah. During the celebration of Isaac's weaning, Ishmael ridiculed Isaac maliciously. Sarah saw this and insisted that Abraham send Hagar and Ishmael away, adamant that Ishmael would not be heir with Isaac. Abraham was very displeased with this because he loved Ishmael, but God told Abraham to obey Sarah's demands since Isaac was the child of covenant. However, God told Abraham that He would bless Ishmael and his descendants for Abraham's sake, and again he obeyed God.
When Isaac was grown, Abraham passed the ultimate test with his willingness to sacrifice his beloved son. Abraham so trusted God that he was ready to offer Isaac as a sacrifice believing that God would raise him from the dead. God said to Abraham, "
Because you have done this thing, and have not withheld your son, your only son, blessing I will bless you, and multiplying I will multiply your descendants as the stars of the heaven and as the sand which is on the seashore; In your seed all the nations of the earth shall be blessed, because you have obeyed My voice
."
The New Testament declares that Abraham was "
fully convinced that what He had promised He was also able to perform
." Abraham's submission, resolute trust and faith in God continue providing an inspirational example to Christians today.