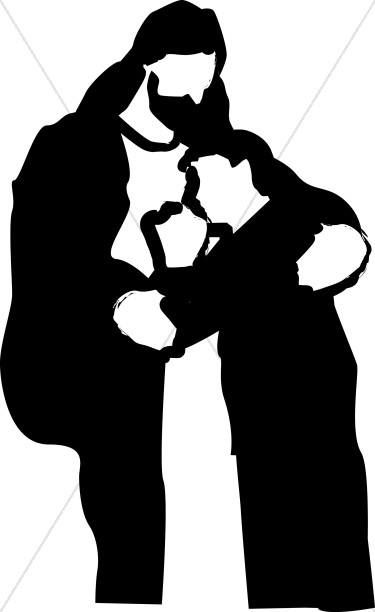 It takes a lot of courage to follow Jesus.
Many people are mesmerized with fictional characters that have super powers. Movies show these make-believe champions overcoming impossible odds, causing devastation to the villains, and making everything good again. However, the super heroes of movies and TV are not real. They never existed. They never will.
Movie stars, athletes, and entertainers that appear on TV and in the tabloids are real and often thought of as heroes. But many of today's stars are troubled and some are addicted to drugs or alcohol. When they make mistakes, their embarrassing moments are caught on tape or in photographs and are seen by millions of people. Still, they are held up as models based on their ability to become famous. Yet, the true super heroes of today are rarely in the news and get very little recognition, if any.
At sporting events, it's acceptable to be a screaming, out-of-control fan. But the person who gets excited about the greatest hero of all time, Jesus Christ, is thought of as strange, even in need of psychological attention. This confirms that people are confused and that wrong and right are getting mixed up.
"
Woe to those who call evil good, and good evil; who put darkness for light, and light for darkness; who put bitter for sweet, and sweet for bitter!
" ( Isaiah 5:20)
Those who choose to live their lives for the Lord Jesus and commit themselves to spread the truth of God's Word will likely never receive anything close to the attention that stars receive. No picture in the newspaper. No TV interview. No hand print in Grauman's Chinese Theater or star on the Hollywood Walk of Fame.
But true heroes of faith are not working for worldly attention, but to genuinely help people by leading and directing them to Christ. It takes the highest level of courage and to follow Jesus and to tell others about him. It's not for the faint of heart, or for people who are self-centered.
"
Then He said to them all, 'If anyone desires to come after Me, let him deny himself, and take up his cross daily, and follow Me. For whoever desires to save his life will lose it, but whoever loses his life for My sake will save it. For what profit is it to a man if he gains the whole world, and is himself destroyed or lost? For whoever is ashamed of Me and My words, of him the Son of Man will be ashamed when He comes in His own glory, and in His Father's, and of the holy angels.
'" (Luke 9:23-26)
To daily take up a cross means requires a selfless life of service. Following Jesus requires living each day as He lived, giving into God every day, offering a daily sacrifice to do His will. This does not imply a life of poverty, perils and problems. It doesn't mean that dreams cannot come true, or that one will be left alone and abandoned. God promises health and prosperity, and has adventures in store for those who commit their hearts and lives to Him.
"
Eye has not seen, nor ear heard, nor have entered into the heart of man the things which God has prepared for those who love Him.
" ( 1 Corinthians 2:9)
A life committed to following Jesus is a life worth living, a rich and satisfying life of love and answered prayers.
"
If you abide in Me, and My words abide in you, you will ask what you desire, and it shall be done for you. By this My Father is glorified, that you bear much fruit; so you will be My disciples. As the Father loved Me, I also have loved you; abide in My love. If you keep My commandments, you will abide in My love, just as I have kept My Father's commandments and abide in His love. These things I have spoken to you, that My joy may remain in you, and that your joy may be full.
" ( John 15:7-11)