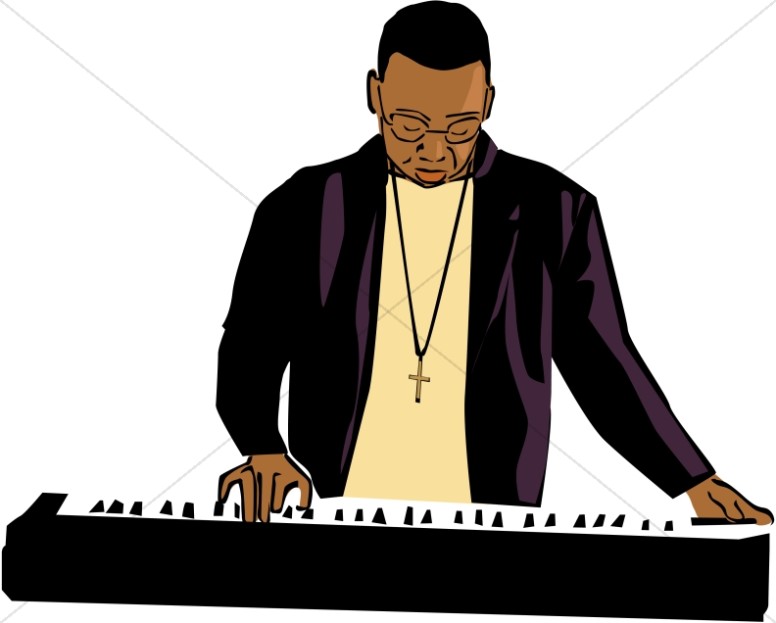 The metamorphosis of the first 88 black and white wooden keys created in the 13th century, into the piano forte of the early 1700s, to the first 'square' grand piano built in 1760, to the Bosendorfer of 1852, to the first Steinway built in the U.S. in 1857, and so on to become the electronic keyboards of this generation, was no doubt orchestrated by the Creator of all things good. God loves music and loves to hear His people worship Him in song. The invention of the piano keyboard with multiple keys and octaves has from its inception motivated and enhanced the worship practices of many believers.
The piano and its electronic cousins have become mainstays within contemporary Christian praise and worship services. Keyboards have become more than just instruments to accompany voices; and the pianist more than a background musician. Inspired and guided by the Holy Spirit, in cooperation with other instruments or alone, the music of those black and white keys can create and/or change atmosphere.
The many possibilities of melodies, harmonies, chords and rhythm can guide the worshipping congregation to solemnity, or towards exuberance. Just a few notes played by the pianist can draw the attention of listeners away from themselves, first to the music and then as the music invades the mind and emotions, to a place where all attention is directed to the One who is the Creator of all music.
Be it an expensive shiny great grand piano or a rickety old 'needs to be tuned'spinet; be it a well-seasoned musician whose fingers know the keyboard by touch or a struggling beginner, the pianist and the keyboard play a vital role in today's worship services. The pianist and worship leader have the responsibility to work together towards leading the congregation by faith to the foot of the Cross, to the feet of Jesus, and indeed, into the very Throne Room of God. The pianist, the worship leader and the worship team should spend time honing their musical skills and researching songs that move the heart to seek God. They should spend time alone, and as a team, kneeling before the Living God, seeking His face, His will and His anointing.
If you are a pianist, or aspiring pianist, and want more information regarding the role of the keyboard in worship, as well as practical resources to enhance your abilities, see Piano in Worship Part 2.