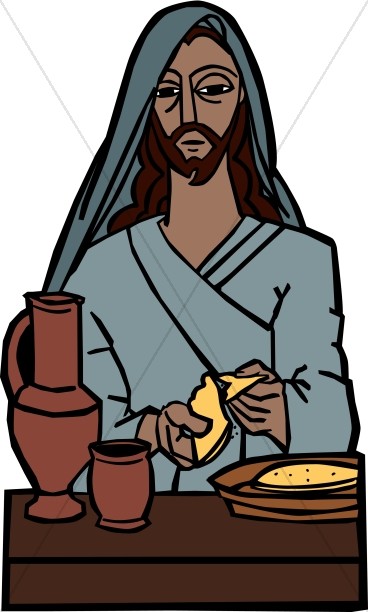 Then He took the cup, and gave thanks, and gave it to them, saying, "Drink from it, all of you. For this is my blood of the new covenant, which is shed for many for the remission of sins
." (Matthew 26:27-28)
Jesus lived in a world that was divided. His triumphal entry into Jerusalem had stirred up both adoration and dissent among the people of Jerusalem. Passover was near, and Jesus knew that his time with his disciples would soon end. Only days before, a woman had anointed his feet with expensive oil from an alabaster jar, worth a year's wages. Now, the religious leaders were watching for the right time to capture and kill him. Yet Jesus' heart was fixed. Despite the tension, he longed to spend his last hours with the men he had chosen to walk beside him.
A mealtime that should have produced joy and fulfillment was instead filled with confusion, disunity and anguish. During the meal, Jesus revealed to his disciples that one of them was a betrayer. This brought them great sorrow, and one by one, they asked Jesus who it was. While some of the disciples may have been concerned that they were the traitor, others denied the possibility. Meanwhile, Jesus agonized over the purpose behind the betrayal. Although he had longed with fervent desire to feast with them before his suffering began, Jesus knew that he was going to be the Passover Lamb.
There had been a long-standing dispute between the disciples as to who among them was the greatest. At this last meal together, Jesus took the opportunity to teach them that the last shall be first, and those who govern shall be those who serve. As his hour was drawing near, he longed for them to understand what true leadership meant. By humbling himself and washing their feet, Jesus revealed to them that the greatest in God's kingdom would willingly perform, out of love, even the most sacrificial act for the benefit of another. But even then, Jesus knew that his greatest example was yet to come.
Peter was the most impetuous of the 12. His objection to Jesus washing his feet was followed by his claim to remain with Jesus, even unto death. But Jesus lovingly corrected him, stating that before the rooster crowed three times, Peter would utterly deny that he even knew him. In fact, with a heavy heart, Jesus revealed that not only would Peter deny him, but that all of the disciples would desert him that night. Even though Jesus knew that these events were fulfilling prophecy, it was no less painful to know that those who had stayed with him throughout his ministry would abandon him in his greatest hour of need.
Three years before, Jesus had chosen his disciples through prayer and wisdom. He knew their hearts; that they were prideful and often impulsive, and they were men of seemingly small faith. Yet Jesus also knew that those sitting with him around the table would be among the first to receive forgiveness and the promise of eternal life. Despite their character flaws, Jesus knew that through them, the gospel would spread to nations around the world for generations to come.
Knowing that his disciples would make history and turn the world upside down with the Good News of the Gospel, the joy was set before Jesus, which helped him face and endure the cross. It's also why Jesus chose to break bread, wash the feet of the disciples and spend his last hours with them.