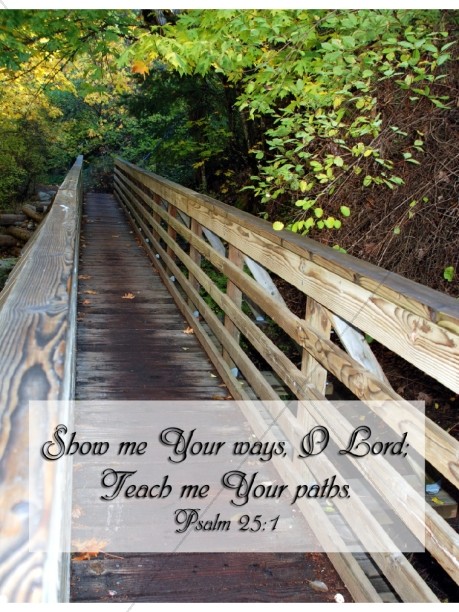 "
Walk worthy of the Lord, fully pleasing Him, being fruitful in every good work and increasing in the knowledge of God.
"(Colossians 1:10)
In the Bible, the word 'walk' often refers to a total lifestyle. In Genesis, Enoch and Noah walked with God. "
You shall walk in all the ways which the LORD your God has commanded you, that you may live and that it may be well with you, and that you may prolong your days in the land which you shall possess."
(Deuteronomy 5:33)
In these references and many more, to walk means simply to conduct oneself or live one's life. There are many instructions in God's Word regarding how to walk and live in order to receive spiritual and material blessings from God.
For example, the book of Romans teaches that since believers are raised from death with Jesus Christ, they should walk in newness of life, not according to the flesh but according to the Spirit. Second Corinthians adds that believers are not to walk with unscrupulous conduct or in any deceitful way, but honestly before God and His people -- by faith and not by sight.
Galatians recaps Romans and adds specific details. "
Walk in the Spirit, and you shall not fulfill the lust of the flesh."
(Galatians 5:16) The spiritual blessings are the nine fruits of the Spirit, very desirable qualities of life which are listed in chapter 5, verses 22 and 23.
Ephesians teaches principles of conduct for the model church and uses the word 'walk' more than any other epistle. Chapter 2 begins with the believers past, "
those who once walked according to the course of this world, but God saved the believer by His grace, His workmanship, created in Christ Jesus for good works, which God prepared beforehand that we should walk in them."
Chapters 4 and 5 now implore the believer to "
walk worthy of the calling with which you were called"
and "
no longer walk as the rest of the Gentiles walk but to walk in love as Christ also has loved us"
to "
walk as children of light"
" and to "
walk circumspectly, not as fools but as wise."
Christians have a future with opportunities galore to live positive, productive lives. The mission requires living exemplary lives, unwavering, showing love to all, enlightened and enlightening, being meticulous, perceptive and aware. "
Walk worthy of the Lord, fully pleasing Him, being fruitful in every good work and increasing in the knowledge of God."
(Colossians 1:10)
The epistle of 1 John discusses fellowship with God and how to restore broken fellowship. To "
walk in the light
" is to think and act in alignment and harmony with God and His will, and to "
walk in darkness"
is to think and act contrary to the Word of God.
"
If we say that we have fellowship with Him, and walk in darkness, we lie and do not practice the truth. But if we walk in the light as He is in the light, we have fellowship with one another, and the blood of Jesus Christ His Son cleanses us from all sin.
" (1 John 1:6, 7) These verses demand the utmost in personal integrity and speak clearly for themselves. To walk in the light is the key to an invigorating, dynamic and rewarding relationship with the Father.
God's Word is truth and implies high standards of His perfection with Jesus Christ being the flawless personification of excellence. Anyone can say they walk with God, but God presents the ultimate test: "
He who says he abides in Him [God] ought himself also to walk just as He [Jesus Christ] walked."
(1 John 2:6) Jesus is the example by which Christians should measure their lives. Enoch walked with God and Noah walked with God, but Jesus walked with God perfectly, without sin. To "
walk just as He walked"
" is to live moment by moment, hour by hour, and day by day in obedience to God.
Today, Christians can "walk by faith and not by sight," walking by the Spirit, enabled and empowered by God. Jesus is the one to follow, one foot in front of the other, one step at a time. "
I am the light of the world. He who follows Me shall not walk in darkness, but have the light of life.
" (John 8:12)