5 Reasons Why You Will Work Faster, Smarter, And More Effectively, While Saving Your Church Thousands!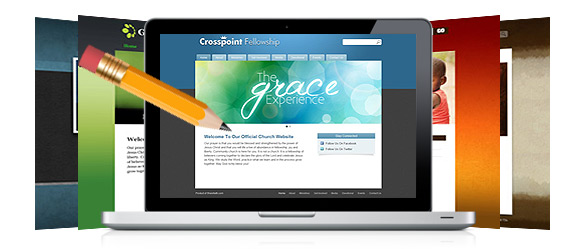 Good stuff happens to you when you get a Sharefaith church website. It is one of the most valuable resources your church can have. It is professional, packed with value and lifelong support, and priced cheaper than any other church website out there. If you're not convinced that a Sharefaith website is for you, we'd like to suggest a few more upsides.
You will fight premature graying. Designing websites can be a frightfully stressful thing. Escape the stress, and get a Sharefaith website. It's ready for you. All you do is customize and go.


You can take a nap. One big downfall of creating a church website is that it can take anywhere from 36 hours to three months to make. Not anymore. You'll have your Sharefaith church website up and running within two hours. Go ahead. Take a nap.


You earn a friend. Have you always wanted a tech-savvy friend that can help you with any website problem you've ever faced? You've got it: free, live, phone support with English-speaking Christians located in the USA. Smart guys, too. Good friends.


You save moolah. Moolah means money. Cash. Dough. Dosh. Mazuma. Lucre. Whatever you call it, you can save more of it. Sharefaith websites are free with a Sharefaith membership -- and yes, you read that "free" word correctly -- plus they come with ridiculously low hosting fees as low as $19.99/m. More money for your pastoral dream trip to Israel, perhaps? Hm?


You look good.and your website should look good. No questions asked. Sharefaith church websites are just that -- raw, graphic design eye candy. Please gaze in awestruck wonder.


Forget About Programming & Designing. We Took Care Of That For You!

Easy Editing Like Never Before: With the latest content and graphics editor, your church website can be tweaked, edited, and updated in a few seconds without the hassle of going back and forth between the site and your control panel. Do it on the spot, right then and there!


Worship Media + Web Graphics All In One: The best part of a Sharefaith church website is that you get unlimited access to over 50,000 worship media products for a whole year. That's right! From PowerPoint sermons, worship loops, backgrounds, countdowns to bulletins, flyers, newsletters, web banners and more -- it's all yours!


All The Bells And Whistles You Want: Yes! Your website comes with online tithing, calendars, podcasting, videocasting, blogging, photo galleries, web contact form, 2,000 email addresses, multi-user editing, and so much more!


Let's Talk Pricing: To get a church website plus your 50,000+ media products, you need a Sharefaith membership, which costs $126.65/year. Your website needs to be hosted somewhere. Our hosting is by far the best value at the lowest price. Hosting costs only $19.99/m or $179.88/year. Right now we have a massive sale. We're waiving the website setup fee and dropping our domain name registration from $18.99 to only $12. To summarize, for only $306.65, you could have your website up and running in just 2 days, plus enjoy unlimited access to the largest worship media library in the world!
Don't Take Our Word For It: Everyone is trying to sell you something! We are providing you with a solution so you can actually save money. We launched these websites a little over nine months ago, and already 2,000 churches have signed up and are using Sharefaith church websites. That's pretty impressive! The product speaks for itself! Read what other users are saying.
Sign Up For A Sharefaith Membership & Get Your Church Website NOW!
888-317-4018 | Email Us