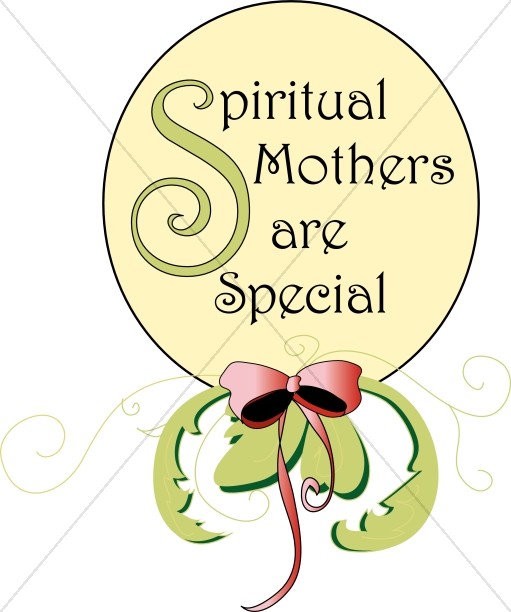 "The older women likewise, that they be reverent in behavior, not slanderers, not given to much wine, teachers of good things -- that they admonish the young women to love their husbands, to love their children, to be discreet, chaste, homemakers, good, obedient to their husbands, that the word of God may not be blasphemed.
" (Titus 2:3,4)
Simply put, the role of a spiritual mother is to mentor and provide a proper example to younger women who God assigns to them. A spiritual mother also imparts Christian character, domestic responsibility and teaches them how to live Christ-centered lives.
For young women growing up in healthy Christian families, the concept of spiritual mothering is well established because it starts in their homes. Christian mothers, having received training from older Christian women in their early years, are able to demonstrate the love of God to their children. These children are exposed to the larger church family and to other women in the congregation who work in the nursery, the toddler room and Sunday school classrooms. Many of these workers take on the role of spiritual mothers.
Through the years, God assigns one or more older women to give special attention to a certain child. God then gives that woman special grace and wisdom in relation to that child. When spiritual bonds are made between older and younger women, they often last a lifetime. And while it begins with the spiritual mother nurturing her assigned daughter, through the years, the daughters tend to pour back love and respect into the relationship.
Spiritual mothering for those who have not grown up with Christian values is a brand new concept. Often times, new believers have never experienced the joy of a healthy family, nor have they interacted with a loving mother. Some have been abused or abandoned by one or both of their parents, or been the forgotten child of an addict. Many have broken hearts, having been passed on to relatives to live out their childhood, or sent through the foster care system.
No matter what the family circumstances or how old they are, a new female believer needs a spiritual mother to guide her to the right path and help her stay on track. Though they should not try and take the place of a biological mother, a spiritual parent should work to fill the gap left by a non-Christian value system.
The following is a partial list of the duties of spiritual mothers:
Model virtue

Provide spiritual counseling

Study the Bible with their spiritual daughter

Provide practical training

Assist with character development

Teach them domestic responsibilities, including cooking and cleaning

As Hebrews 6:12 shows, a spiritual mother does more than teach, she becomes the example.
"Imitate those who through faith and patience inherit the promises.
"(Heb. 6:12)