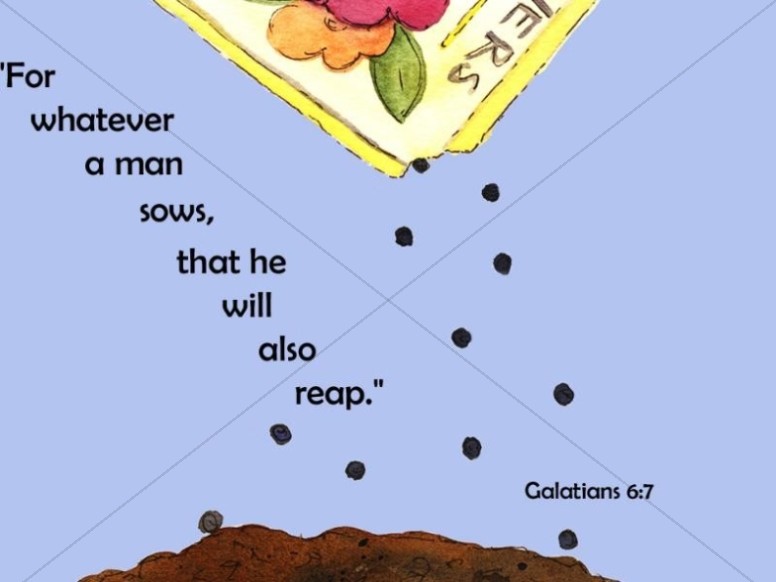 God established laws in the beginning, including the reality that every seed reproduces only its own kind. (Genesis 1:11,12,31,24,25) Even though mankind has experimented with cross-breeding, grafting and even cloning, God's laws remain unaltered. For example, one may be able to cross one species of horse with another species of horse, or one species of cow with another cow, but they cannot cross a horse and a cow and get a cow-horse, or a horse-cow.
Reliably, sowing and reaping are unchanged, also. Genesis 8:22 states,
"While the earth remains, seedtime and harvest, cold and heat, winter and summer, and day and night shall not cease."
As long as man inhabits the earth, seedtime and harvest will never come to an end. Not only does this apply to agriculture, but the principle of sowing and reaping applies to all categories of life.
"Those who plow iniquity and sow trouble reap the same."
(Job 4:8)
"He who sows iniquity will reap sorrow."
(Proverbs 22:8)
"He who sows righteousness will have a sure reward."
(Proverbs 11:18)
It is valuable to take a personal assessment periodically. If one is unhappy with the crop they are reaping in their life, they need to look at what kind of seeds they are sowing. Galatians also spells it out unmistakably.
"Do not be deceived, God is not mocked; for whatever a man sows, that he will also reap. For he who sows to his flesh will of the flesh reap corruption, but he who sows to the Spirit will of the Spirit reap everlasting life."
The word whatever means whatever. What one gives out comes back in some way, shape or form. Other religions teach the essence of this and some call it karma, and there is the modern saying, "what goes around comes around." The reason it's true is because God established the law of seedtime and harvest, or sowing and reaping.
God is faithful and promises that there will be a harvest if some seeds are planted.
"And let us not grow weary while doing good, for in due season we shall reap if we do not lose heart."
(Galatians 6:7-9) It is also important to remember that the harvest doesn't come the day after the seeds are planted.
Regardless of what is going on in the world politically or economically, and regardless of how challenging times may be, the laws and promises of God always work. In the context of financial giving in the church, a section of scripture in 2 Corinthians 9 sets forth the truth of sowing and reaping without compromising.
"But this I say: He who sows sparingly will also reap sparingly, and he who sows bountifully will also reap bountifully."
Imagine planting corn in a garden plot three feet wide by six feet long, compared to an area the size of a football field. It's obvious which one would yield more. The promise of God is that when one sows plenteously, the harvest will be super abundant.
"And God is able to make all grace abound toward you, that you, always having all sufficiency in all things, may have an abundance for every good work."
(2 Corinthians 9:6-8) Those who always want to have all sufficiency in all things need to apply the principle of sowing bountifully.
Life is the seedtime for eternity. Every seed planted may not always germinate, so to speak, and that might be a good thing sometimes, especially when some of the seeds are not necessarily good seeds. When once a Christian knows the law of sowing and reaping, then each day can be a day of sowing righteousness, sowing to the Spirit, sowing bountifully, and knowing that
"at just the right time we will reap a harvest of blessing if we don't give up."
(Galatians 6:9 NLT)