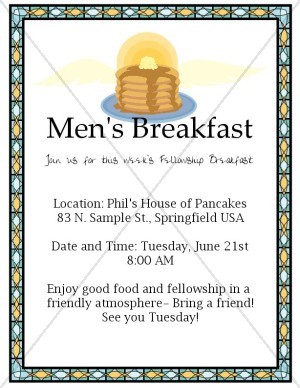 The pastor of a church doesn't have to initiate a Christian Businessmen's Breakfast. While it is important to get the pastor's blessing and have his covering, anyone can organize an early morning event if they have a grasp of the concept, the ability to coordinate the details and the desire to make it happen.
This can be a unique time for businessmen in the church to enjoy fellowship with other working men, and starting the day with God and His truth. It is also an opportunity to invite men outside of the church since the only criteria for attendance is that the men are running a business, starting a business, or aspiring to launch a business.
Christian Businessmen's Breakfasts are a great way to start any day--enjoying good food and good fellowship. If it is planned for a Saturday, there is a chance to enjoy a more relaxed and extended time together. If the event is scheduled on a weekday, certain details must be in place to accomplish its purpose in about an hour. For example:
Set the time well before the workday. Many Christian Men's Breakfasts start at 7 am.
Have the event in a centralized location so as many men as possible can attend.
If breakfast is being cooked on site, make sure that the shopping gets done in advance and the chefs are there early enough to get the food prepared on time.
Map out a schedule of themes and schedule speakers in advance.
Delegate the set up and the clean up ahead of time.



A principle regularly practiced in the first century Christian church was eating together. "
And they continued steadfastly in the apostles" doctrine and fellowship, in the breaking of bread, and in prayers
. "...
breaking bread from house to house, they ate their food with gladness and simplicity of heart
."(Acts 2:42 and 46) In the culture of Bible times, mealtime was to be shared only with family and dearest friends. It has been proven that eating together breaks down social barriers and is a good way to get to know someone.
Christian Businessmen's Breakfasts can also include a brief message; something positive and inspirational that takes no more than 15 minutes. The message might be relative to personal work ethics or applying Biblical principles on the job. The speaker can talk about the believer's righteous standing before God, God's love for His people, victories against great odds or topics relevant to current business trends and events. It's okay to bring up serious and important issues, but generally, the purpose is to strengthen and encourage men for the day ahead.
Many Christian Businessmen's Breakfasts take place at the church, especially when the church has the proper kitchen and dining facilities. Charge a fixed cost per person, based on the expenses and overhead. If the breakfast is held at a local restaurant, arrangements and permission should be made well in advance. If possible, reserve a separate banquet room. Make sure to charge accordingly and provide a generous tip to the wait staff.
Ideally, the Christian Businessmen's Breakfast should be held on the same day and time each month. This makes it convenient for the coordinator and participants. To promote the event, add it to the church bulletin, or have someone announce the date and time from the pulpit. Even so, don't forget that the greatest form of advertising is word of mouth.
Men like to eat and talk about "man stuff" with each other. To glorify God and unify men for Him makes this morning fellowship opportunity even better.