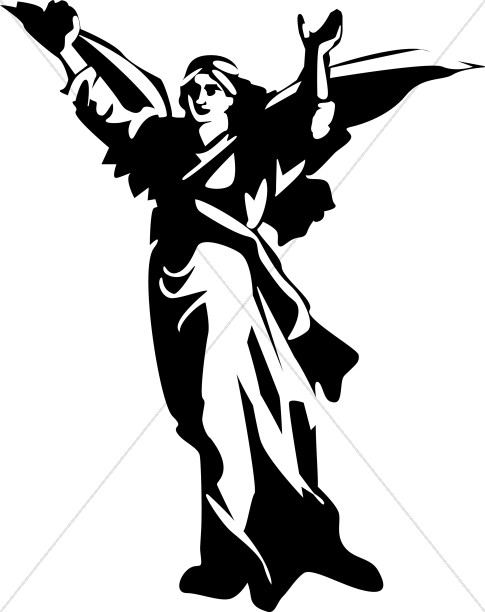 For the word of God is living and powerful,
" and who better to deliver it than one of God's most devoted angels. (Hebrews 4:12).
Whereas the mighty warrior angel Michael has incredible strength and power, Gabriel is obedient and sensitive to the will of God. Throughout Scripture, Gabriel was assigned to deliver specific and time-sensitive messages to God's people, regardless of content. Whether it was to announce the conception of a much-longed-for child, or to prophesy the destruction of an entire city, God entrusted Gabriel to deliver the entire message, nothing more or less.
While the following is not a complete list of references to Gabriel and other angels in the Old Testament, it provides a clear picture of the ministry of the messenger angels by comparing specific accounts.
To Hagar, Sarai's maidservant, to encourage her to return to her mistress.(Genesis 16:7-12)
To Abram, to prophesy the birth of Isaac and the destruction of Sodom and Gomorrah. (Genesis 18)
To Lot and his family, to help them escape from Sodom. (Genesis 19:1-29)
To Hagar, a second time to promise the preservation of the life of Ishmael. (Genesis 21:17-20)
To Abraham, to prevent the sacrifice of Isaac and to confirm God's covenant. (Genesis 22:11-19)
To Jacob, to instruct him to return to his own homeland. (Genesis 31:11-13)
To Israel, to judge them for their incomplete conquest of the Promised Land. (Judges 2:1-3)
To Gideon, to encourage him to stand against the Midianites. (Judges 6:11-23)
To Minoan and his wife, from the tribe of Dan, to prophesy the birth of Samson. (Judges 13:1-24)
To Elijah, to strengthen him for his long journey. (I Kings 19:5-8)

While Scripture speaks of many prophets who spoke for God, including Elijah, Isaiah and Jeremiah, these specially appointed men did not begin to minister until after the nation of Israel was formed. Until then, God used angels to speak directly to His people, but only at specifically appointed times, and for specific purposes. It was either to bring comfort and promise, to warn of danger or judgment or to bring good news. Although Gabriel is not named in most of the Old Testament accounts, it is clear that anytime a message was given, it came by way of Gabriel himself or one of the angels in his company.