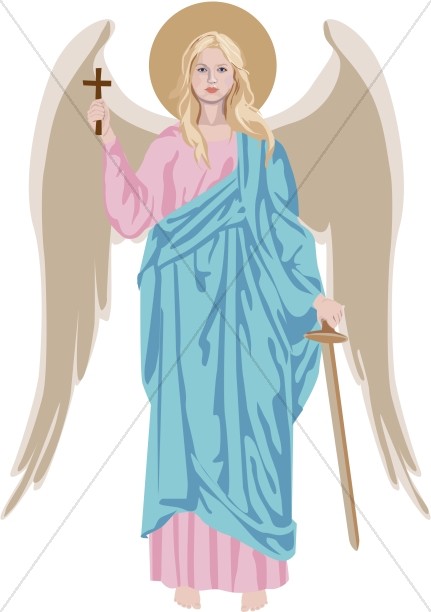 Not long ago, many people nearly idolized angels. There was something peaceful and welcoming about the human-like figures dressed in long, flowing robes, with snow white, majestic wings and glowing faces. For Christians, angels are significant beings, but not what some have made them out to be.
Humans were created with the innate need to worship, although God desires that people turn to Him and worship Him only. But this natural, internal characteristic is the reason why people will idolize something, whether it is a family member or significant other, a fictional character in a book, a music or film superstar, or spiritual beings other than God, even angels. But Scripture teaches that worship belongs to no other but God. (Matthew 4:8-10)
The book of Hebrews has some of the most straightforward teachings on angels in the Bible. Every Christian should read and apply the correct perspectives when it comes to angelic beings to avoid holding them at a higher heavenly level than they should be. The following are some key verses that will help ensure that angels are viewed correctly:
"Let all the angels of God worship Him." (Hebrews 1:6)

God, the one who created angels, created them to worship him. They themselves were not to receive worship, which is verified by Revelation 22:9. The angel who spoke to John in this passage identified himself as a fellow servant, that is, of God specifically, therefore was not to receive worship.


"...having become so much better than the angels, as He has by inheritance obtained a more excellent name than they." (Hebrews 1:4)

Jesus Christ, being the Son of God, holds a higher position than the angels. Father God is the head over all, and it was to His Son that He gave a name that will one day cause all the nations to bow their knee, and cause every tongue to confess that He is Lord. (Philippians 2:9-11)


"Are they not all ministering spirits sent forth to minister for those who will inherit salvation?" (Hebrews 2:5)

Angels were created not only to worship God, but also to protect those they are assigned to. Every life is precious to God, so much so that He chose to dispatch an angel to watch over each person who will someday give their lives to Him. Angels are servants. Although they do watch over and protect, they do so because God has instructed them to. They do not do anything of their own accord.

Scripture is very clear about why angels were created. Whether it was to sing songs of worship in the throne room of heaven (Revelation 5:11-12), or to announce the birth of the Son of God (Luke 2:8-14), or to destroy the entire Assyrian army in one night (II Kings 19:35), angels all have their part in carrying out the will of God.

Even with all the powerful things angels can accomplish, Scripture teaches that "we are His workmanship, created in Christ Jesus for good works, which God prepared beforehand that we should walk in them." (Ephesians 2:10) Christians are the ones who can preach the gospel to the lost, and reconcile them back to God through the redeeming work of the cross. (II Corinthians 5:18) Angels do not have the ability to fulfill this ministry.

Jesus Christ calls believers his 'brethren' according to Hebrews 2:11. Romans 8:16-17 teaches that Christians are heirs of God and joint heirs with Jesus Christ, meaning that they will share fully of the inheritance that God has prepared. This is another privilege that is not shared by angels.

Angels deliver prophetic messages and protect future heirs of salvation but they will never be given the opportunity to lead a person to Jesus Christ. And while angels are beautiful beings created with incredible strengths and abilities, they have a specific purpose, much different than humans who have been washed clean by the blood of Jesus.