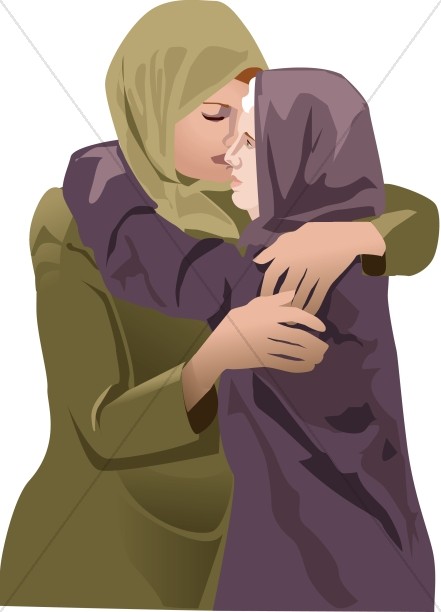 And Boaz answered and said to her, "It has been fully reported to me, all that you have done for your mother-in-law since the death of your husband, and how you have left your father and your mother and the land of your birth, and have come to a people whom you did not know before. The LORD repay your work, and a full reward be given you by the LORD God of Israel, under whose wings you have come for refuge
." (Ruth 2:11-12)
Ruth was a Moabite woman, a descendant of one of the most despised enemy nations of Israel. She married an Israelite man, Mahlon, the son of Elimelech and Naomi of Bethlehem. His family had moved to Moab to escape a famine, but soon suffered the death of Elimelech. Both Mahlon and his brother, Chilion, died 10 years later, leaving Ruth and Orpah, the wife of Chilion, widowed. Their deaths also left their mother-in-law, Naomi, motherless. The three widowed women did not have a promising future because there was nothing left in Moab for them. When Naomi heard that the famine in Bethlehem had ended, there was no question that she was to return home.
On the way to Bethlehem, Naomi instructed Orpah and Ruth to return back to their families. She knew that there was nothing she could offer them and that they could remarry from their own people. With many tears, Orpah returned back to her family, but Ruth refused to leave Naomi. This covenant act of love marked the life of Ruth, giving her favor among the people of Bethlehem, and giving her favor with God.
Ruth was under no obligation to care for Naomi. She was not bound by Israelite law, nor by any social laws of her own people. Her decision to stay with Naomi came simply from a heart of love and compassion, and from faith in the God that she had come to know through Naomi's life. Though Naomi attributed their suffering to God dealing harshly with her, Ruth knew by Naomi's example that He was a God of mercy and protection.
Because of this, Ruth desired to become part of God's people. Though she would be seen as a foreigner, she knew there was nothing for her in Moab with their empty, lifeless idols. Leaving her own family and nation behind, Ruth joined herself to Naomi by a covenant promise, declaring that even in death she would not leave her.
Ruth's loyalty and friendship was further demonstrated by her submission to Naomi's guidance. She both loved and trusted Naomi, and diligently followed her wise instruction. Ruth's obedience secured her an honorable place in the fields of Boaz, a close relative of Elimelech, Naomi's deceased husband. Boaz recognized the value of Ruth's character, and instructed the workers of the fields to not only let her glean his fields undisturbed, but for them to intentionally let grain fall from the bundles for her to pick up.
God was with Ruth, whose name means "friendship" in Hebrew, and rewarded her for being dedicated to Naomi. Ruth became the wife of Boaz, a highly respected and successful businessman from Bethlehem. They soon had a son named Obed who was the grandfather of King David, from whom the promised Messiah came.
Though she came to Bethlehem a foreigner, Ruth lived there as a valued member of God's family. Her honor was restored, and her life became a foundational stone in the lineage of Christ. As a devoted woman with a submissive heart, Ruth remains a significant role model for Christian women today.