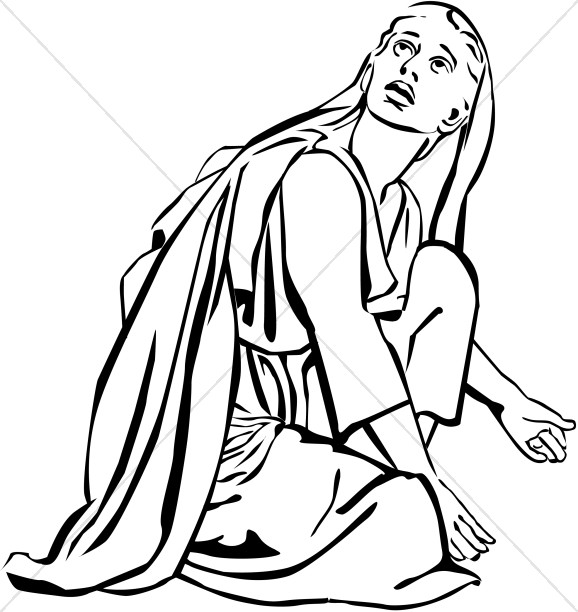 Mary Magdalene, the woman out of whom Jesus cast seven demons, was never the same. The Bible does not say much about where she came from, who her family was, or even what she was thinking the day she first met her Savior. But the Bible is clear about the life Mary led after her deliverance. It was one of change, and of self-sacrifice. Her continual devotion to Jesus came out of her heart as his disciple. Mary Magdalene knew what it meant to follow Jesus:
"Now it came to pass, afterward, that He went through every city and village, preaching and bringing the glad tidings of the kingdom of God. And the twelve were with Him, and certain women who had been healed of evil spirits and infirmities - Mary called Magdalene, out of whom had come seven demons...and many others who provided for Him from their substance."
(Luke 8:1-3, NKJV)
A disciple is one who follows the example of a teacher, learning their ways and doctrines and imitating them. Jesus had 12 disciples. These men stayed with him, traveled where He traveled, slept where He slept, listened to Him teach and preach, and ultimately were commissioned to spread the message of the Gospel into all the nations. The women who accompanied him also chose to leave their own life behind to follow Jesus. They wanted to give out of what had been given to them. They remembered the life they had come from, the brokenness, the infirmities and the emptiness.
Jesus had given them all they needed, and they desired for Him to have all that He needed. Perhaps they purchased food on occasions, or cooked for Him, or even mended His clothes. These were all basic needs, but their service to Him allowed Jesus to move freely throughout Judea, touching many lives along the way. They gave of what they had, and did it with willing hearts.
A disciple's heart springs forth from a repentant heart. It is not a "fix me" attitude, one that is self-seeking or even self-deprecating. However, it does involve admitting that the past way of doing things didn't work, and that there is a need for guidance in making the right decisions. But a disciple is one who not only receives the guidance, but takes what they have learned and applies it by walking in obedience, love and respect.
Many believers today have a disciple's heart. They long to learn the ways of God and teachings of Jesus. They no longer want to walk in their old ways that lead to destruction. They willingly accept Jesus as Lord of their life, and as such allow Him to change them from the inside out through the power of the Holy Spirit. But they also have a desire to live out the things they have been taught. While Jesus is not physically present today for believers to attend to His basic needs, they can seek others who are in need. Jesus Himself said that
"Assuredly, I say to you, inasmuch as you did it to one of the least of these My brethren, you did it to Me."
(Matthew 25:40)
This kind of response pleases God, and gives honor to His Son. When believers go beyond the taking into the realm of giving, they are truly living in righteousness and repentance. And just as Mary Magdalene, who was forgiven much, showed much love, Christians can also show much love by seeking to become true disciples of Jesus Christ. When they let go of the burden of their broken and sinful past, they can then freely reach out to those around them and show them how they, too, can walk in repentance, and desire the heart of a disciple.