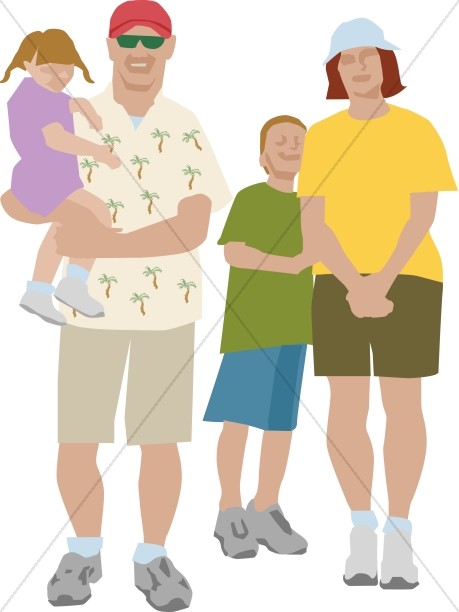 In His immense wisdom and foresight, God's instruction to parents is to "
bring them [their children] up with the discipline and instruction approved by the Lord
. (Eph. 6:4 NLT) He knew each child would need a Biblically sound, unshakeable foundation to draw from in order to successfully carry out His plan for their life. So, from the very beginning, God designed, appointed and anointed the parent to be the one to fulfill the role of teacher, coach, mentor and guide.
This is a long-term commitment that can take on many forms, one of them being homeschooling. When circumstances allow homeschooling to take place, the parent immediately becomes the teacher, and the child becomes the student. The change in family dynamics sometimes causes confusion; both are faced with the challenge of which shoes to fill. For the child, their task is less complicated. They are to complete the course that the parent lays before them, whether it is in their spirituality, morality or their education.
For the parent, however, homeschooling can be a difficult journey filled with mixed emotions, and many sleepless nights. Some homeschool parents tend to get discouraged when repeating the same lessons over and over. Others lie awake at night worrying about whether their child is learning everything they should. At one time or another, nearly every homeschool parent questions their ability to stay motivated and not give up.
Even a God-fearing homeschooling parent can become overwhelmed by their inadequacies. But of all the battles associated with being a homeschool parent, their biggest is often the inability to adjust to the double role they have to perform. For example, parents who become teachers may have to deal with a seemingly lazy student. Perhaps there is a poor grade on a test due to a lack of studying. The tendency is for parents to fear that if they are too harsh they might squelch their child's desire to learn. Some even blame themselves for their child's lack of enthusiasm.
Balance is found when the parent remembers what God originally commissioned them for, and that is parenting. The number one responsibility of a Christian parent, whether homeschooling or not, is to guide and oversee. This truth should become their priority. Parental authority and consistent discipline must be established before any educational instruction. If both the parent and the child know that the parent is first and foremost a parent, the home will have a sense of order and stability. And the family will have a better chance at homeschool success.
Discipline as a teacher is no different than as a parent. Here are some examples to help incorporate the two:
School time is school time; don't mix it with free time.
All schoolwork should be given a due date; stick to the due dates.
Assignments should be complete and thorough; sloppy work should be redone.
Work that is not done on time results in loss of free time until completed.
Put expectations in writing. This includes guidelines, consequences and assignments.
Review expectations periodically to stay on track.

There is no question as to how a parent maintains their position of authority in an educational environment. Because of their Godly authority, the parent has tremendous influence over their child's education, in more ways than they may understand. It is a parent that prays for their child daily. They are the ones that pour their heart and soul into their child because they believe in them. They encourage their child to keep trying. They assure them of their love and affection. They keep challenging them to reach their goals.

It is a parent that does not hesitate to establish firm guidelines and administer discipline when those guidelines are violated. They rejoice with their child when they succeed, and feel bad for them when they fall short. It is a parent that gives them a hug after a test, and a cup of hot chocolate after a good tromp through mud puddles at break time. And it is a parent that is motivated to get up the next day and do it all over again.

God's plan from the beginning was for parents to teach children. In light of that, the transition from parenting to teaching and vice versa should be virtually seamless, since the parent is technically already a teacher. They are merely using homeschooling as a teaching tool. It involves training the child from an educational standpoint, not just a spiritual, moral or social one.

God-fearing, homeschooling parents should put all they have into training and instructing their child even when they question their ability to do a good job. A wise parent knows that teaching is nothing more than one facet of parenting, and that the role of parenting always comes first.