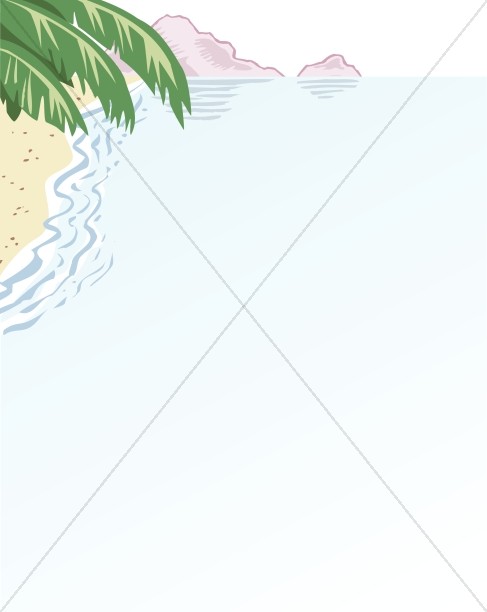 What better way to eliminate cabin fever, or the cold weather blahs, than a summer party in the middle of winter. Any youth room can be easily transformed into a tropical getaway, and the youth will have a blast putting it all together. In addition, a summer bash in the winter is a great way to draw youth from the community.
Door greeters dressed in wild Hawaiian shirts, bright flip flops, grass skirts, beach hats and silk floral leis can add a lot of flare to the festivities, and bring a smile to anyone coming in. With some creative planning, and very little cost, Summer Bash is guaranteed to be a terrific annual winter event for any youth group.
Decorations for Summer Bash should be centered on summer colors and themes. Bright colors like reds, yellows, oranges, blues and greens are great color choices. Tropical decorations make the room fun. While there may be some upfront costs for decorations, large plastic storage tubs can preserve most of the decor until the next year's bash.
Many party supply stores have a wide variety of items, as well as online stores. Some ideas are plastic or inflatable palm trees, tiki torches (only to be lit by permission of the church staff), paper lanterns, silk flower confetti to scatter on the tables, party banners, little rubber duckies with sunglasses as centerpieces for the tables, mini bubble bottles, windsocks, plastic or inflatable pink flamingos, strings of white lights, vibrant colored streamers, and other items can really brighten the room and add to the summer atmosphere. Some of the artistic youth can even cut out and paint large paper suns with flame-like sunbeams that can be taped to the ceiling, as well as paper surfboards painted in summer colors that can be taped to the walls.
It wouldn't be a Summer Bash without games. A side room can easily be converted into a volleyball court with a portable net from a rental facility. The youth can see how far they get in a game of limbo, or try to out-dress the rest in a best summer dressed contest. Pineapple-shaped pinatas are a great idea, and even an inflatable kiddy pool with rubber duckies to 'fish' for. These are all silly but fun activities that make the bash a hit with youth.
The food for a Summer Bash can be both simple and fun. A lemonade and juice stand can provide drinks with the little paper cocktail parasols. A barbecue tucked right outside the back door can be used to make Teriyaki chicken and hot dogs, and a portable backyard fire pit can allow for roasting marshmallows. Other simple items like chips and dips, Li'l Smokies, veggie platters and fruit kabobs are not only inexpensive, but make great finger foods.
For an event like Summer Bash, the entry fee should be no more than $10 per person. This will cover most if not all of the costs for decorations and food. This may sound like a lot to charge, but by the middle of winter, most youth would be willing to pay just about anything to get out of the house and among their peers for a half day of summer-like fun, frolic and food.