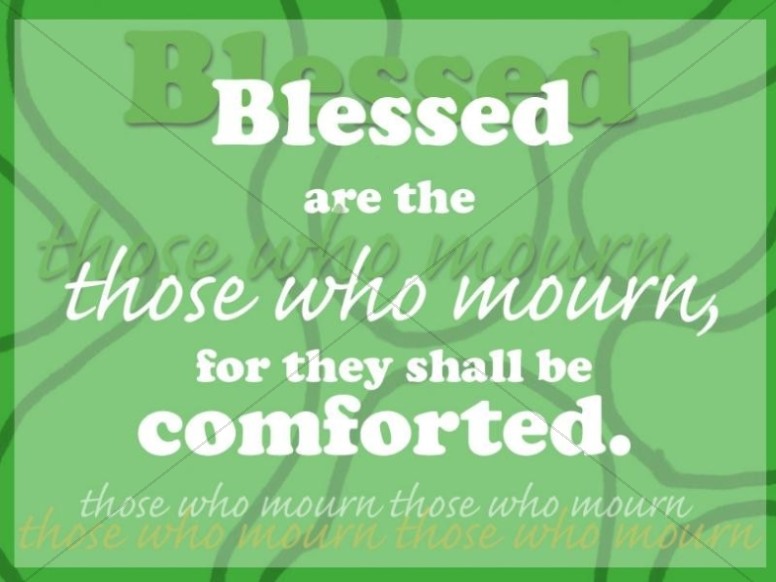 The Beatitudes are a collection of promises recorded in the book of Matthew. They present seven different attitudes of the heart that come with a promise of blessing. Jesus spoke these promises in His Sermon on the Mount, to a multitude of followers who needed more than just physical healing and deliverance. Jesus was giving them an opportunity to seek an intimate relationship with God through a right heart.
Each beatitude, which simply means supreme blessedness, begins with the phrase "blessed are." These words imply that whoever participates in that right heart attitude will benefit from being in a perpetual state of receiving God's favor. It was this continual blessing that Jesus knew was going to fulfill the needs of His followers. The second beatitude is for those who mourn. Jesus said,
"Blessed are those who mourn, for they shall be comforted."
(5:4)
Jesus knew there wasgoing to be many things in the world that caused great sorrow. His words were intended to bring hope to those that He knew were going to experience sorrow. When someone loses someone or something that is dear to them, their loss often creates a feeling of hopelessness, and even complete emptiness. But in those moments, when the pain of loss seems too great to bear, Jesus promised for that emptiness to be filled with the One who truly means the most to those who fully trust in Him. God is the Author of true comfort, and the Holy Spirit is named the Comforter. The presence of God through the Holy Spirit is the only thing that can overcome the burden of sorrow.
Yet there is some sorrow in life that is necessary to experience. Those who come to true repentance certainly have a reason to mourn. Their loss is the recognition of their inability to save themselves from their heart of wickedness. They grieve over their evil actions and attitudes, and they grieve for those whom they have hurt in the process. This kind of sorrow, however, can often be too great for one to bear alone. While God may not immediately remove the cause of sorrow, He does promise comfort to those who turn to Him.
Regardless of the source of sorrow, those who mourn will not be left without comfort. They may experience the pain, but it will not be forever. They will be invited to receive encouragement from the God who offers them hope.