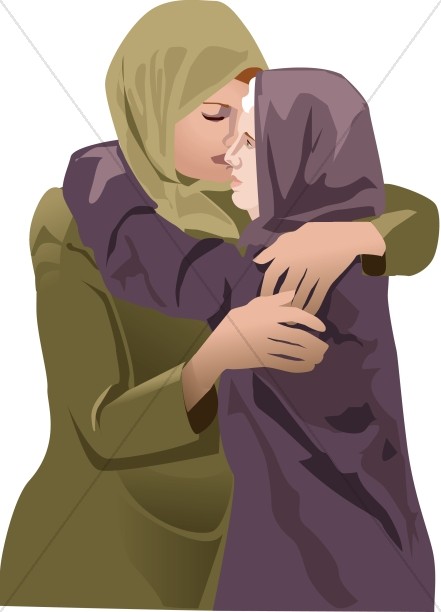 The book of Ruth is a reminder that God's will always overrides the will of man, no matter how far a society may fall from God. Before there were kings who ruled over Israel, God sent prophetic deliverers to rescue Israel from the oppressions of their enemies and to lead them in the ways of God. During this time, the story of Ruth emerges as a mark of God's grace and mercy in the lineage of a continually sinful and rebellious people.
Ruth was a Moabite, a descendant of one of Israel's most hated enemies. She became the wife of an Israelite man when he and his father, mother and brother moved to Moab from Bethlehem to escape a famine. During their stay in Moab, the men died, leaving Ruth, her sister-in-law and her mother-in-law, Naomi, as widows.
When the famine ended and the time came for them to return to Bethlehem, Ruth's sister-in-law returned to Moah, the house of her father. But Ruth chose to stay with Naomi. Perhaps she found a sense of belonging among the people of God, but no matter her reason, the decision to remain loyal to Naomi moved the heart of God.
Naomi had become bitter because she lost her husband and both sons. She returned to Bethlehem empty handed and filled with sorrow, thinking God had dealt harshly with her. Through her pain she did not see that God was in the midst of the tragedy, placing another foundational stone in His plan of redemption. Nor did she know that Ruth would be the key to making it all happen.
Upon returning to Bethlehem, under the wise counsel of Naomi, Ruth began working in the fields belonging to Boaz, a wealthy and well-respected landowner. It turned out Boaz was a close relative of Naomi's dead husband. Because Ruth respected Naomi as a wise and honorable woman, she submitted herself to the older woman's counsel to continue working in the fields. Ruth soon caught the attention of Boaz who recognized not only her physical beauty, but knew that she had been loyal and faithful to Naomi.
Boaz chose to marry Ruth, not only out of duty as a kinsman redeemer, but because he knew he had found a righteous woman. In those days, much of Israel did what was right in their own eyes, which made Ruth's selfless acts of obedience that much more remarkable. Ruth's marriage to Boaz redeemed herself and Naomi from a life of poverty and destitution as widows. It also brought honor to Naomi's dead husband by providing him with an heir to carry on the family name.
Ruth's life did not immediately influence the unruly nation of Israel, nor did it turn them from their wicked ways. But the impact she had on future generations is evidenced by her place in the bloodline of the promised Messiah. The book of Ruth tells a moving story of God grafting a foreigner into the family tree of the Israelites so that all nations of the world could one day be grafted into the kingdom of God. Ruth was the grandmother of Israel's most beloved king, David, whose line brought forth Jesus Christ. But in preparation for the coming Messiah, Ruth's generations ushered in the start of an earthly kingdom. This is where the book of First Samuel begins.