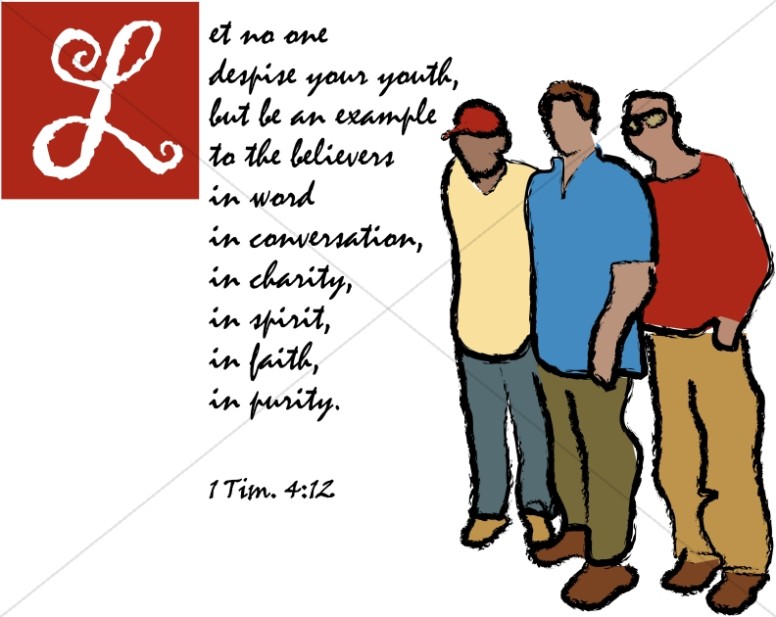 ""Let no one despise your youth, but be an example to the believers in word, in conduct, in love, is spirit, in faith, in purity."
(I Timothy 4:12)
Age is not proof of wisdom. While older people have more experience in life, the choices they make in respone to their experience determines the credibility of their wisdom. Wisdom is neither experience or knowledge, it is the application of the choices made in reaction to them.
Sometimes it can be difficult for an older person to allow themselves to be discipled by a younger. This attitude is understandable but should never be a factor in whom a believer chooses as their leader.
For younger believers, taking on the task of discipling an older person can be intimidating. An older person has more life experience. Still, an aging man with no character is still a characterless man. So younger people can let no one despise their youth by learning and applying wisdom early on. In Paul's letter to his Son in the Lord, Timothy, the apostle gives some very specific instruction on how to gain reputation and good standing regardless of age.
"Till I come, give attention to reading, exhortation, to doctrine. Do not neglect the gift that is in you, which was given to you by prophecy with the laying on of the hands of the eldership. Meditate on these things, that your progress may be evident to all. Take heed to yourself and to the doctrine. Continue in them, for in doing this you will save both yourself and those who hear you."
(I Timothy 4:13-16)
Timothy was a young man trained to be the bishop of the church in Ephesus. Paul spent two years establishing and training the church there and it was considered one of the major early churches. Ephesus was a big city with big city problems. To be a pastor there at such a crucial point in history was not a task to be given to a novice.
Though young, Timothy proved to be faithful to Paul, to Christ and to doctrine. He moved in his calling with obedience and service. He was so loved by Paul that the bond built between them was that of a father and a son. When Christians establish character early on, age plays no factor in the calling. For the young men, build character and reputation. For the older guys, allow yourself to be moved by character, not age.