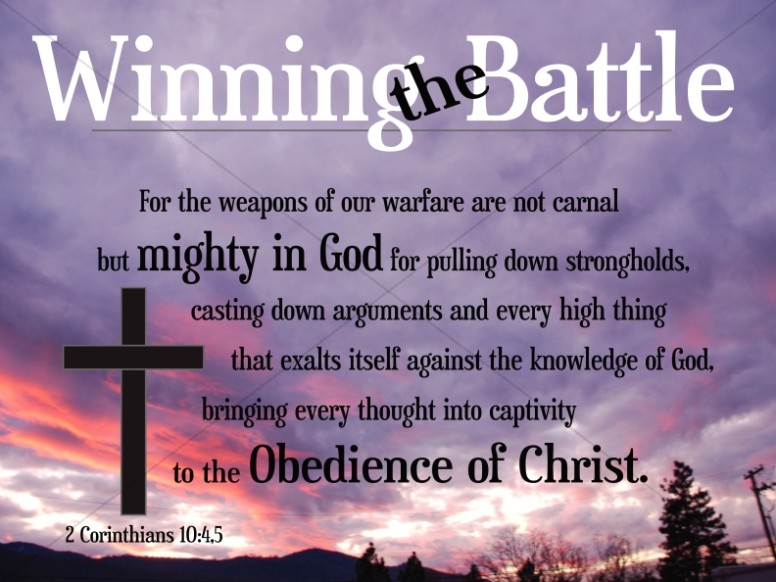 Christian living is referred to in the bible as warfare. There are two opposing armies; one good and one evil. What's hard to comprehend is that the spiritual warfare believers wage has already been done. On the cross, Jesus defeated the forces of darkness that held people captive. The blood that was shed for the sins of the world is what cleanses mankind from the death that sin produces in life. If the war has already been won, then why would Christians continue to fight?
Saddam Hussein was an evil dictator who oppressed and killed his own people. When the United States defeated his armies, the fighting didn't stop and Iraq became a more dangerous place to be. Efforts to enable the Iraqi people to take control of their nation have proven to take more time than originally predicted. The problem was not just Saddam Hussein but also the mindset of the people who live in Iraq. While this is not a commentary on the war in Iraq, it can be used as an analogy of the spiritual warfare that believers face in their own lives.
Yes, Satan was defeated for all time due to the miraculous and amazing work of Jesus Christ. This is the assurance of salvation from the bondage of the oppressor. The problem is not just the devil alone but also mankind's natural inclination to serve its own flesh. A secular thought on Christianity and the doctrine of demons and Satan is that believers are looking for a scapegoat for poor performance. To understand the flesh nature means that one must agree with this statement.
Satan and his demons do not force anybody to do anything. Therefore, he is not the root of the problem, sin is. Satan himself was cast out of heaven because his root problem was sin. The Bible tells Christians to fight, not only against Satan but against personal nature. Paul describes warfare to his son Timothy.
"
This charge I commit to you, son Timothy, according to the prophecies previously made concerning you, that by them you may wage the good warfare, having faith and a good conscience..."
(I Timothy 1:18-19)
Timothy is charged to wage a good warfare. Warfare is struggle and conflict. Paul recognizes the conflict when in the book of Romans he says that the things that he wants to do are not the things that he does. There are two natures in mankind warring for the territory of souls; God nature and flesh nature. When people become Christians, life appears to become more difficult because the conflict in the mind is much more defined. However, through God new believers can gain self control and holiness -- but not without a fight.
Until we meet again, fight the good fight!