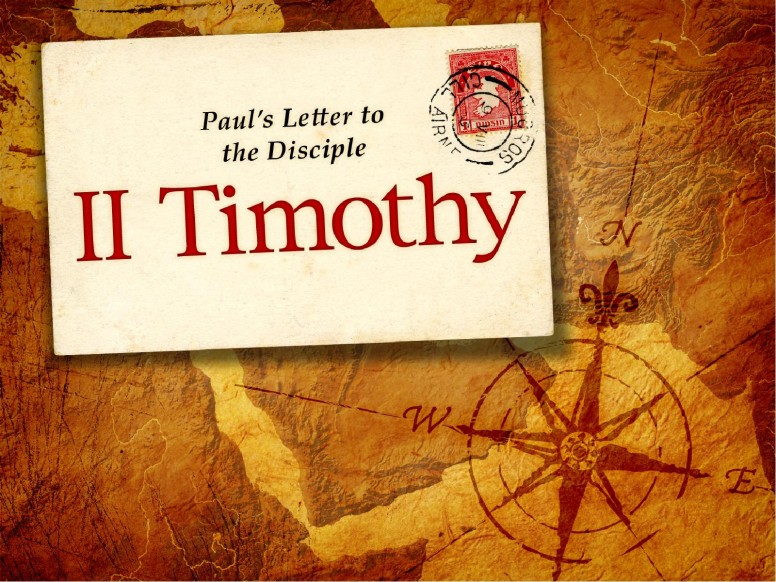 The book of 2 Timothy was written by the Apostle Paul during his final Roman imprisonment. It was written to Timothy, Paul's son in the faith and leader of the church in Ephesus. By the tone in his letter, it appears that Timothy struggled amidst not only the persecution that was closing in on the church in Ephesus, but also opposition from rebellious members within the church. It is also apparent that Paul was nearing the end of his battle as well. Paul;'s plea for Timothy to come to him quickly perhaps was for the benefit of both, a final spiritual renewal for Timothy and a final comfort for Paul before his death.
Paul knew that he had reached the end of his life. He said,
"For I am already being poured out as a drink offering, and the time of my departure is at hand."
(4:6) Sadly, everyone had abandoned him at that point, except Luke. And Timothy was to bring Mark with him when he came. No one else stood with Paul, and it grieved him. Many had left the faith and still others had continually opposed him from the beginning. Demas, Hymenaeus, Philetus and Alexander the coppersmith are among those listed as defectors. Yet even though he was alone, Paul still stood as a warrior, convinced that God was going to continue to deliver him from every evil work. Paul's heart longed for Timothy to share that same steadfastness in the midst of the spiritual upheaval in Ephesus.
Timothy came from a long line of believers. His grandmother, Lois, and his mother, Eunice, were both Christians. They passed down their spiritual heritage to Timothy, who embraced the faith with incredible tenacity. But it seemed that much of the dissention that was surfacing in Ephesus was becoming overwhelming for the young leader. By Paul's exhortations, Timothy may have doubted his calling, or doubted his ability to keep spiritual order in the church.
There were several strong charges throughout Paul's second letter, all intended to ignite Timothy's faith. Stir up the gift. Do not be ashamed. Hold fast. Be strong. Endure hardship. Consider. Remember. Be diligent. Continue. Preach the Word! Be ready. Convince. Rebuke. Exhort. Be watchful. Endure afflictions. Do the work of an evangelist. Fulfill your ministry. Paul had intense confidence in Timothy's ability to lead. He also loved Timothy like a son, and had labored long and hard to bring Timothy into his calling as a spiritual leader. Paul was not about to let the enemy take out the one who had been chosen as his successor. Not without a fight.
There were other instructions that Paul gave in his second letter. It is not clear whether they were for Timothy personally, or simply general instructions that were to be passed down to the believers in the church. But what is clear is the potential danger that was finding its home among God's people. Flee youthful lusts. Pursue righteousness. Avoid disputes. The enemy was at work in Ephesus, undermining the foundation that Paul had laid in Jesus Christ. It was as if, in Paul's absence, the believers in Ephesus were forsaking the purity of their faith, like the Israelites with the golden calf. Moses had left Aaron in charge, but his authority was not effective enough to prevent the rebellious children of Israel from straying completely.
Paul encouraged Timothy to stand in the face of the deadly opposition. He reminded Timothy of the gospel's effectiveness and vitality despite attacks of the enemy. Paul himself had experienced persecution, affliction, beatings, imprisonment, ridicule, and more for the sake of preaching the gospel. But by Paul's own words,
"the Word of God is not chained."
(2:9) God' Word prevailed, and so would Timothy if he stood his ground and looked to God for comfort and strength. He was to follow Paul's example in love, perseverance and longsuffering if he was going to make it spiritually.