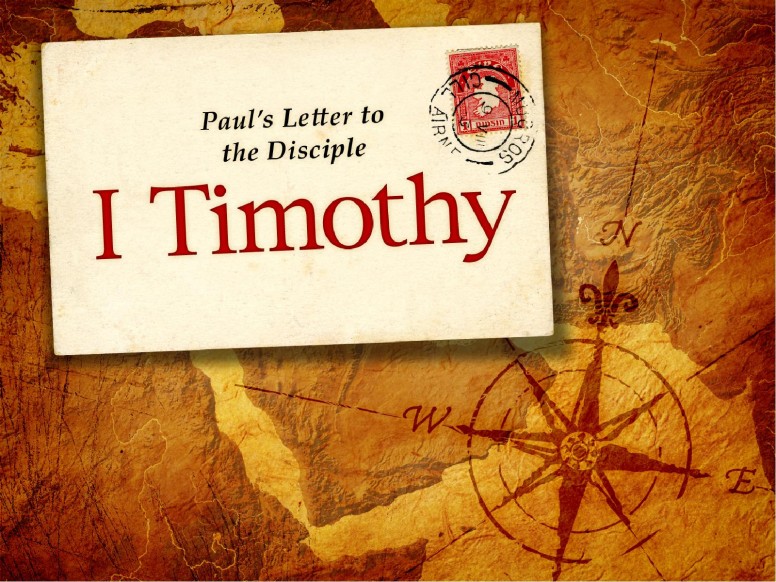 The book of 1 Timothy was written by the Apostle Paul to Timothy, a son in Christ and fellow church leader. Biblical scholars suggest that Paul visited the church in Ephesus shortly after his first Roman imprisonment. Upon his departure, he placed Timothy in charge. His first letter to Timothy was to encourage him in his ministry, and provide instructions on the spiritual and practical qualifications of church leadership.
Paul's letter begins with a reminder that there is no other doctrine than what had been preached by the apostles. There were some individuals in Ephesus that began infiltrating the church with false doctrines, and who incited arguments regarding genealogies. These were not bringing unity or edification to the church, which is GOd's primary desire for the believers. There was to be no place for divisions among His people.
Paul instructed Timothy to pray for all men, leaders included. Christ gave His life as a ransom for all, and it is only fitting that prayer and intercession be made for all believers, especially those in leadership. Paul also instructed that the men in the church pray, lifting their hands toward heaven in surrender to God. Women were to present themselves modestly, not drawing attention to themselves with expensive clothing or flashy jewelry. Rather, they were to maintain a spirit of quiet humility, learning the ways of God in submission. After these, Paul moved into the qualifications of church leadership.
The key qualification for both bishops, spiritual overseers, deacons or administrative overseers is that they have their home life in order. Also, they must be the husband of only one wife. Their wives and their children must be reverent and in submission. They must not be driven to alcohol, greed, violence, and the like. Those who fill the roles of bishop and deacon are to be examples to the believers in the church. Personal integrity is a greater responsibility for those who desire to be a leader. And only those who have proven themselves faithful over time are to be selected for such a role.
Paul concluded his letter to Timothy with additional practical instructions. First, he exhorted Timothy to not let his youthfulness be a reason to doubt his ability to lead. Rather, he was to maintain his spirit of excellence and continue to be an example in both word and deed. He also was to meditate on the Word of God, as well as the things that were spoken over him by the laying on of hands of the eldership. Paul commanded him to not stray from those things, or from the doctrinal teachings. In so doing, he would not only preserve himself but those who heard him.
Perhaps the most significant revelation that Paul provides in his letter to Timothy is that the first responsibility of church leaders is to maintain their personal relationship with God. They are to stay connected to God through prayer and His Word first. If that foundation is not in place, they will not be able to successfully carry out their ministry. It is only through this daily intimate walk with God that they can lead and instruct others. And by practicing godliness in their personal life, a spiritual leader can provide a steadfast example for others to follow.