We're happy to roll out a brand new feature to make your
Design Center projects
more vibrant and easier to personalize! Introducing...
You can now save up to
18 pictures
on your MyHome page at FaithClipart.com. Use the photos you've taken in your
Design Center projects
! Below, we'll outline the easy steps to upload and start making your personalized designs.
---
Step 1: MyHome -- Open MyAlbum
Click on your MyHome tab! You'll see a new feature in the bottom left corner. This is MyAlbum, where the pictures you upload will be saved.
To open MyAlbum, click on 'add pics' or the (+) button. MyAlbum will expand to show new options.
---
Step 2: Find Your Picture
Click on the 'Browse' button to upload a picture from your home computer to MyAlbum.

A File Upload dialog box will open that allows you to navigate to where your pictures are stored on your computer.





**Note: For most Windows users, the default location for your pictures is the "My Pictures" folder.


Once you find and select the picture you want from your home computer, click the 'Open' button. You will be returned to MyAlbum.
---
Step 3: Add Your Picture
After you have found the image you'd like to use, click the 'add picture' button to start your photo upload. After a brief wait, your picture will appear in MyAlbum.
Optional: Give your picture a title! We recommend a descriptive name with a date so you can remember when it was taken.
---
Step 4: Start Your Design Center Project

Once your image appears in MyAlbum, move your mouse over the thumbnail to see a larger preview.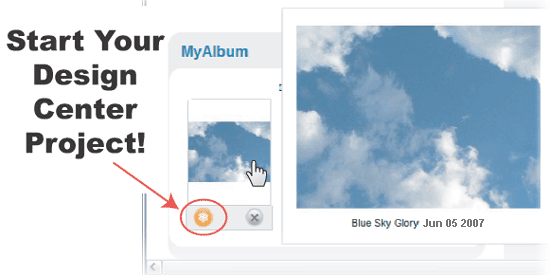 You can now use this picture to create a custom design in the Design Center! Just click on the orange Design Center button beneath your picture's thumbnail to begin. You can also create a blank project and browse for your picture after adding an image. MyAlbum will be at the top of the list!
---
We pray that this new feature allows you to better connect with your congregation and community. If you have any questions or comments on how we can continue to improve our service to you, please don't hesitate to contact us at
Service@FaithClipart.com
. Get started uploading your photos today!