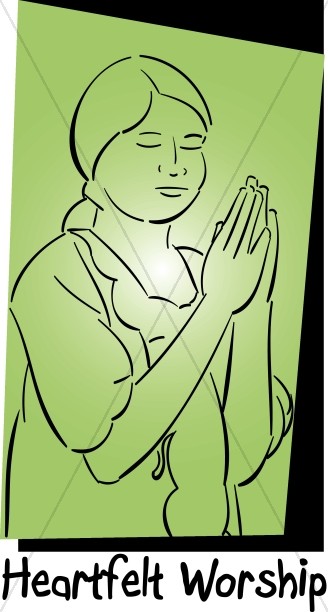 Jesus had come to visit! Martha was busy preparing a meal, but Mary found a place close to her Master, where she sat soaking in His presence and hanging on every Word He spoke. When Martha complained, Jesus gave this gentle answer: "
Martha, Martha, you are worried and troubled about many things. But one thing is needed, and Mary has chosen that good part, which will not be taken away from her.&rdquo:
(Luke 10:41-42 NKJV)
In a recent survey, men and women of diverse church backgrounds, professions and ages were asked to share insight into the
good part
of their busy days. Outlined below (and found in Worship at Home Part 1 and 2), are excerpts from that survey.
"I find myself praying a lot when I'm alone in my car. Sometimes it feels that this is the only time I really have privacy. I also pray right before bedtime. Since I'm not a "morning" person I find that my prayer and reading time is so much better when I'm actually awake. I love to worship the Lord so I find myself praising him in song often when I'm working at the house or in the car or if I'm riding my bike. Of course deep worship is reserved for when I'm only focused on Him, not some other task. Sometimes I go for a drive so I can be alone in my car. I park and worship and pray and usually cry at these times."
"I start my morning with just meditating on a portion of God's Word that stands out to me, praying on it and soaking in it. Throughout the day and night (sometimes even in my dreams), I talk to Him constantly. I tell Him how much He means to me, or I pray for others. Sometimes, (especially if drawn to intercession in the middle of the night), I will put on praise music to be still and just soak in His Presence, or to do warfare (up walking or dancing before Him). Most always I am praying unless I'm talking to someone else either by phone or online, or reading. I try to shut up sometimes and just listen too!"
I usually am so drawn to the piano every morning that I can hardly wait until the kids are out the door before I start playing. I can sit and play and worship Him in song, for hours. Sometimes I open my Bible to a Psalm and try to create a song from it. I am fresher in the a.m., but if I don't have time then, I'll do it whenever I can. I'd rather worship from the piano than anything else in my life."
"I love to lay on the ground, face down, and just be quiet before Him, just let His Holy Presence envelope me - sometimes with praise music in the background; sometimes with nothing but silence, just me and Jesus."
"I am very slow to wake up, and so, instead of attempting to pray with understanding first thing in the morning, I begin speaking in tongues before I open my eyes, and as I drag myself to the shower. As the water washes over me, my mind begins to connect and so I begin to pray and worship with understanding. Out of the shower, I put in a CD of worship music, and begin to sing. The rest of the family awakes to the sound of praise."
"I sometimes follow the exact formula of prayer given to us by Jesus (Matthew 6:8-16). I pray through the Lord's Prayer step by step, spending a long while with each thought:
Our Father in heaven, hallowed be Your Name.
At this point I concentrate on the various names of God, worshipping Him as Prince of Peace, Lamb of God, Healer, Savior, Shepherd, Provider, and so on."
Your Kingdom come, Your will be done, on earth as it is in heaven.
Here I pray the will of God, and loose the powers of heaven into every area of my life, my family, my finances, etc."
Give us today our daily bread.
I take time at this point to thank Him for His many blessings, and to present any needs."
Forgive us our debts as we have forgiven our debtors
. I ask the Holy Spirit to search my heart, to reveal sin. I forgive, and accept His forgiveness."
Lead us not into temptation, but deliver us from the evil one.
I thank Him for protection, and ask for wisdom and direction."
Yours is the kingdom, and the power, and the glory forever.
I return to praise."
(See also: Worship as Warfare Part 1-4, and Various Forms of Worship in the Church Part 1-5)