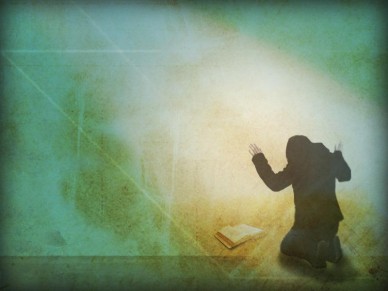 Worshipping God corporately is an integral part of the Christian life. But nothing can substitute for the individual believer spending time alone with Him - The Father and His child. The Shepherd with one of His sheep. The written Word 'jumping off the page' into the heart. The Comforter coming alongside His hurting child. Sitting at the feet of Jesus until the Peace of God that passes all understanding fills to overflowing, the waiting soul.
Outlined below, and continued in Worship at Home Part 1 and 3, are excerpts from a recent survey that reveals insight into the personal prayer and worship practices of men and women from diverse backgrounds.
"I do my best to worship throughout the day, whatever I am doing. At least once during each day I go to my knees -- for a moment, or for an hour. It seems that taking a physical position of humility now and then reminds my soul to do the same."
"As a husband, father and businessman, I sometimes feel overwhelmed by the busyness of my day. But I learned a long time ago that spending time with God is a luxury I cannot do without. I do my best to spend at least an hour a day in concentrated prayer and praise -- sometimes in spurts -- worshipping with a CD in the car, praying in the shower or as I am mowing the lawn, and I pray with my wife at bedtime. When possible, I shut the door to my office for a lunchtime alone with the Bread of Life."
"I am a housewife. I often coordinate my prayer and praise to my daily tasks. As I wash the dishes I speak the Word of God aloud, letting the Truth wash over me, my family and my circumstances. As I vacuum, I lift my voice to worship, louder than the appliance. As I pull the weeds from my garden, I ask God to reveal sin in my life, and to pull it out by the roots. As I am taking care of the needs of a child, a pet, my spouse, a friend, I bless them in the name of Jesus. I do my best think of every part of my day as an act of worship."
"Every day during the week, I take time to kneel and talk to the Lord. It's not a formula, but just spending time with Him because life isn't complete without communication with Him. When my body isn't able to kneel, I bend my heart in whatever position I am in. A number of years ago, I became aware of the principle that prayer is not just about me telling God what I want, but also about listening to Him and finding out what He wants; bring myself into oneness with the purpose of God. I find there is a significant difference in answered prayer when I wait on the Lord and learn to ask 'according to His will (as written in 1 John 5:14,15).
"Being a spontaneous person by nature, I often just pray and worship as the Spirit leads. This ranges from shouting, clapping, dancing, to lying prostrate before Him in silence. I am also an emotional person, so sometimes prayer and praise seem a difficult task. That being the case, I do one of two things: 1) Turn on worship music - loud. I then make a concentrated choice to sing praises to God, who is worthy no matter how I feel. The sacrifice of praise breaks the self centeredness of my focus, and freedom comes. 2) I open the Scriptures and begin to pray the Truth aloud. The water of the Word washes over my soul, my faith is increased, and freedom comes."
"My day starts with my escaping to a little attic sewing room where I eat my breakfast and read
Streams in the Desert
or
My Utmost for His Highest
, and whatever Scripture is referred to in the devotions. I write in my journal notes to and from my heavenly Papa. Then I check my email to see if there is someone with a prayer need. I listen to CDs and talk to God in the car, doing my gardening, cleaning my house. I am not there yet, but I am learning to pray without ceasing."
"A friend of mine built me a beautiful wooden altar bench. It sits in a corner of my small apartment. Each night I light a candle, turn the lights out, kneel, and quiet my heart. Sometimes I feel as if I'm actually kneeling at the feet of Jesus."