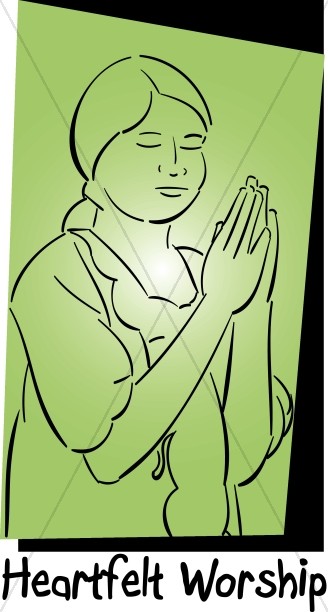 Worship is a life sacrificially offered up to the Lord. There is much to be done for the King and for the expansion of His kingdom. This necessitates much prayer and worship resulting in service in various ministries to those who are less fortunate. James said to visit the sick and minister to widows and orphans and to keep oneself unspotted from the world is pure religion (James 1:27) The Hebrew writer challenges readers to offer up continually the sacrifice of praise, the fruit of our lips giving thanks and not neglect doing good and sharing what you have (Hebrews 13:15-16). Eziekiel prophesied that Sodom and Gomorra fell, not only because of gross sexual perversion and sin, but because they neglected the poor! According to the prophets, social justice is very important to God.
Worship that does not result in transformed lives that reach out with Christ's love to others who cannot return the favor, may not be authentic worship when compared to the Biblical standard. It is not necessary to choose between the "social gospel" and "evangelical gospel" the choice earlier manifested in American church history. It must be both and not either or. It is exciting to see the emergence of such ministries as the "Dream Centers" in Phoenix, Florida and Los Angeles as ministry to the poor and addicted is changing the atmosphere. These are not Para-church ministries. They are a vital part of the church's outreach. Overseas, the nation of Mozambique has depended on Roland and Heidi Baker to feed the poor as God has blessed them with warehouses, helpers and shiploads of food. The result of their ministry to orphans and the poor has been the planting of over 5,000 churches! God seems to miraculously bless this outreach of His very heartbeat. According to reports, people have even been raised from the dead through their ministry!
Finally, how much consideration is being given to various age groups within the church? Is there a mix of blended worship, well-known hymns and choruses with which the grayer members will relate, as well as contemporary choruses loved by the younger generation? This writer believes that it is not necessary to split services into contemporary and traditional services though that is a direction some churches choose to implement. In one situation, a service that was growing rapidly with contemporary worship was basically closed down by "paying" leaders who were jealous of the rapid growth of the contemporary service compared to their own traditional service. Ah...the worship wars! It is sad that style becomes the focus instead of heart...the real issue. Pastors and lead worshippers should prayerfully look at their constituency and ask the Holy Spirit how to graciously meet musical needs without diminishing an atmosphere that truly invites God's presence. Someone has rightly stated that we worship for an audience of One--the Lord.
One idea is to do traditional hymns in a more contemporary way. This new style may be inviting to those who did not grow up with Bach's four-part harmony style. Some wonderful choruses are being added to traditional hymns updating them in very creative ways. Chris Tomlin's "O the Wonderful Cross" and the new chorus added to "Amazing Grace" called "My Chains Are Gone" are two great illustration of this creative approach. Also, using multi-generational teams helps bring unity and automatically merges styles and sensitivities with skillful leadership. These same considerations ought to be given to multi-ethnic congregations as well so that mixed ethnic worship teams bring their own ethnic sensitivities and styles into the mix.
These practical suggestions have hopefully been both helpful and instructive for pastors who hear the call to provide more visible and behind-the-scenes leadership in worship.