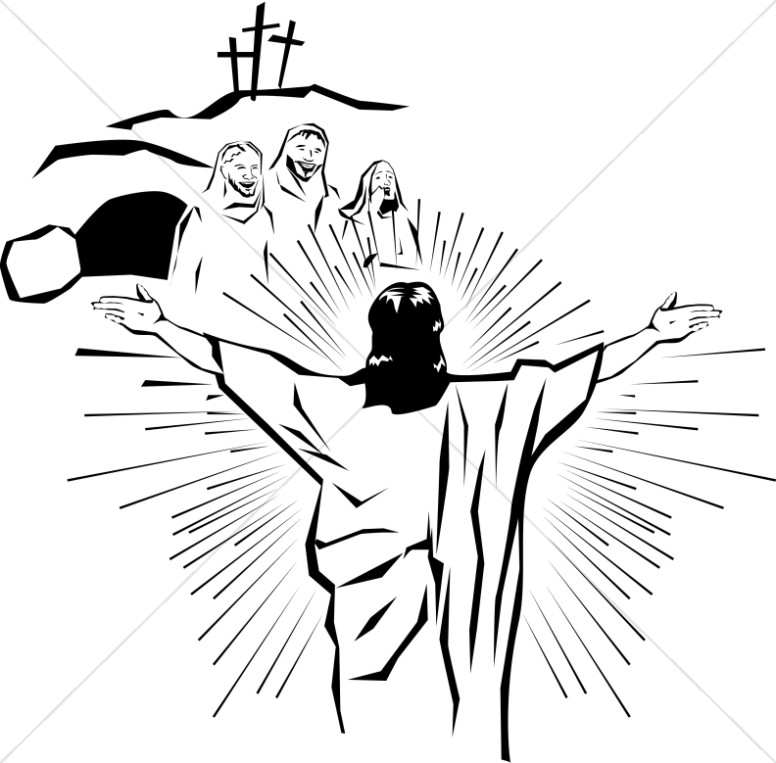 After Jesus died on the cross and was resurrected, He spent 40 days on earth. In all, more than 500 people became witnesses to the prophetic promise that was fulfilled. The gospels of Matthew, Mark, Luke and John provide an overview of Jesus' teachings, instructions and inspiration as the resurrected Christ.
The following are the compiled words of Jesus.
On the mountain in Galilee, Jesus appears to his disciples. (Matthew 28:18-20)
"All authority has been given to Me in heaven and on earth. Go and make disciples of all the nations, baptizing them in the name of the Father and of the Son and of the Holy Spirit, teaching them to observe all things that I have commanded you; and lo, I am with you always, even to the end of the age."(Matthew 28:20)
Jesus appeared to the disciples as they sat at a table. (Mark 16:15-18)
"Go into all the world and preach the gospel to every creature. He who believes and is baptized will be saved, but he who does not believe will be condemned. And these signs will follow those who believe: In My name they will cast out demons; they will speak with new tongues; they will take up serpents; and if they drink anything deadly, it will by no means hurt them; they will lay hands on the sick and they will recover."
Mary Magdalene weeps because Jesus wasn't at the tomb. The resurrected Jesus begins to speak to her, but she doesn't realize it's him yet. (John 20:16,17: John 20:21-23)
"Jesus said to her, 'Mary!' She turned and said to Him, 'Rabboni!' (which is to say, Teacher.)" Jesus said to her, 'Do not cling to Me for I have not yet ascended to My father; but go to My brethren and say to them, I am ascending to My Father and Your Father, and to My God and Your God.'"
In the evening, Jesus stands in the midst of the disciples who have the doors closed because they fear the Jews. Jesus appears and shows them his hands that have been pierced. (John 20:21,22)
"Peace to you! As the Father has sent Me, I also send you." And when He had said this, He breathed on them, and said to them, "Receive the Holy Spirit. If you forgive the sins of any, they are forgiven them; if you retain the sins of any, they are retained."
Thomas, the doubter, had yet to see the resurrected Christ. He was with the other disciples in a room with the door closed when Jesus appeared. (John 20:27-29)
"Reach your finger here, and look at My hands; and reach your hand here, and put it into My side, Do not be unbelieving, but believing." And Thomas answered and said to him "My Lord and my God!" Jesus said to him, Thomas, because you have seen Me, you have believed. Blessed are those who have not seen and yet have believed."
Jesus appeared to the disciples at the Sea of Tiberias. Simon Peter and some others had been fished but had not caught anything. (John 21:5,6)
"Then Jesus said to them, 'Children, have you any food?' They answered Him, 'No.' And He said to them, 'Cast the net on the right side of the boat, and you will find some.' So they cast, and now they were not able to draw it in because of the multitude of fish.'"
After breakfast, Jesus speaks to Peter and to all the disciples. (John 21:18)
"Most assuredly, I say to you, when you were younger, you girded yourself and walked where you wished; but when you are old, you will stretch out your hands, and another will gird you and carry you where you do not wish."
Jesus is talking to two men walking on the Road. They don't realize he's Jesus. The men are sad because they think he is dead. Jesus then speaks to them. (Luke 24:25,26)
"O foolish ones, and slow of heart to believe in all that the prophets have spoken! Ought not the Christ to have suffered these things and to enter into His glory?"
Jesus appears to his disciples and they were terrified because they thought they'd seen a spirit. Jesus speaks to them. (Luke 24:38,39)
"Why are you troubled? And why do doubts arise in your hearts. Behold My hands and My feet, that is I Myself. Handle Me and see, for a spirit does not have flesh and bones as you see I have."
Jesus asks the disciples for food and they give him a piece of broiled fish and some honeycomb. (Luke 24:44-49)
"Then He said to them, 'These are the words which I spoke to you while I was still with you, that all things must be fulfilled which were written in the Law of Moses and the Prophets and the Psalms concerning Me.' And He opened their understanding, that they might comprehend the Scriptures. Then He said to them, 'Thus it is written, and thus it was necessary for the Christ to suffer and to rise from the dead the third day, and that repentance and remission of sins should be preached in His name and to all nations, beginning at Jerusalem. And you are witnesses of these things. Behold, I send the Promise of My Father upon you; but tarry in the city of Jerusalem until you are endued with power from on high.'"