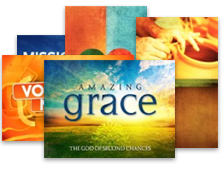 WHAT SHAREFAITH CAN DO FOR YOU
60,000+ graphics, free church app, 52 Week Sunday School Curriculum, Website & hosting and worship presentation software.
Worship video loops, sermon videos, sermon PowerPoints, bulletin covers, Trifold Church Bulletins, newsletters, flyers, email solutions, backgrounds, clipart images, website templates, how-to articles, a weekly magazine newsletter, practical advice, relevant discussions, and much more. With unlimited downloads and fresh designs every week, Sharefaith has the most comprehensive Christian media solution on the web.

Go Complete - Get everything Shrefaith offers for only $49/m billed annually.
CHURCH & MINISTRY SOLUTIONS
Put Your Church on Facebook
So you've decided it's finally time to get on Facebook. Here's how to create a group on Facebook for your church. Creating a group on Facebook may sound a bit difficult (and the length of this post may cause you to think that it is), but it's not that hard. Just follow the steps below to creating a group on Facebook for your church.(Read More..)
Worship Media
Religious Articles