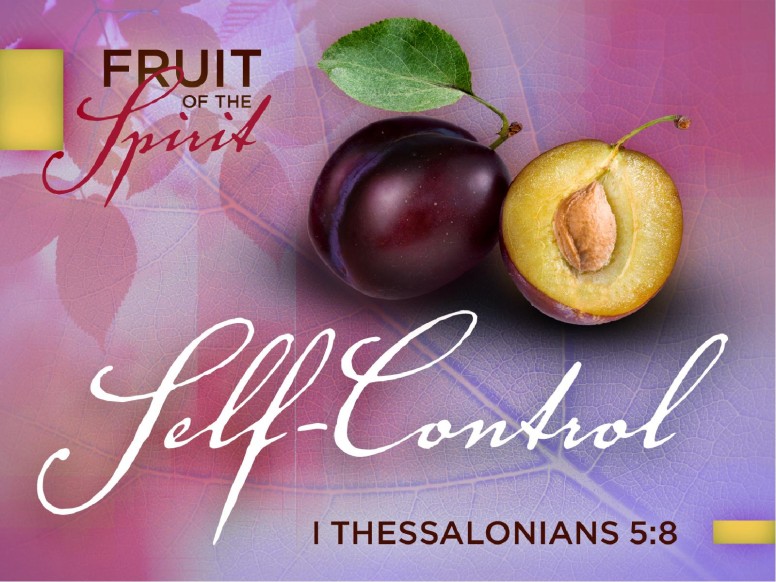 Galatians 5:22 and 23 lists the fruit of the Spirit. Self-control is positioned last on the bunch of fruit. It is possible that it is the last of the fruit because self-control is the most desirable quality attainable and the most challenging for humans. It is self-mastery, the opposite of impulsive and reckless behavior, and the opposite of self-indulgence. Self-control is imperative for a Christian walking by the Spirit. Often times the exact timing of God is required for success. Believers who lack restraint and are self-willed incur disastrous results.
God's Word has potent wisdom in the Proverbs, and 16:32 (NLT) states that it is "
better to have self-control than to conquer a city."
Attributed to the Chinese philosopher, Confucius, is the same essence in this statement: "
He who conquers himself is the mightiest warrior."
Even more enlightening is this proverb in 25:28 (NLT), which says, "
A person without self-control is like a city with broken-down walls."
Self-control should be introduced very early in childhood. However, godlessness, failed marriages, lack of good parenting, declining educational systems and other factors have produced out of control youth. gang violence, drug and alcohol addictions, unwanted pregnancies, sexually transmitted diseases, school shootings, and other horrific deviant behaviors are the result.
Daniel Webster, American statesman, orator and lawyer, said, "
Educate your children to self-control, to the habit of holding passion and prejudice and evil tendencies to an upright and reasoning will, and you have done much to abolish misery from their future lives and crimes to society."
How accurate he was!
Titus communicates leadership principles, and in the list of qualifications in chapter one are these requirements, expecting elders to be "
sober-minded, just, holy, self-controlled."
All Christians are instructed to be disciplined followers of the doctrines of the faith, and are taught in Romans to renew their minds, to change their thinking from warped worldly ways to God's virtuous and reliable ways. Submission and accountability to each other and to church leaders should help manage substandard thinking and irrational behavior.
Napoleon Hill, American speaker and motivational writer, said, "
Self-discipline begins with the mastery of your thoughts. If you don't control what you think, you can't control what you do. Simply, self-discipline enables you to think first and act afterward."
Christians need to lead the way in living orderly, self-disciplined lives. God has enabled Christians to walk with power, demonstrating superior excellence, exhibiting the fruit of the Spirit.