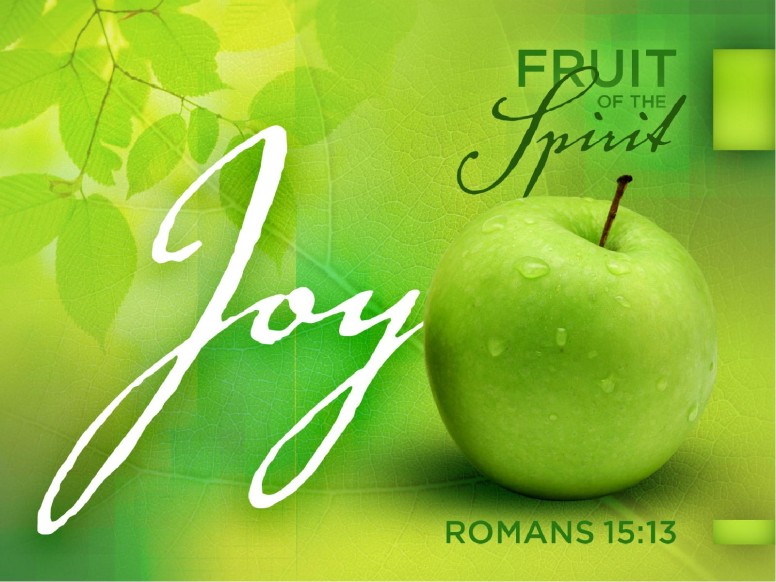 Galatians 5:22 and 23 lists the fruit of the Spirit. More than happiness, which is contingent on favorable external conditions, joy is internal. It is not dependent on outside circumstances, but can be abundant despite negative or opposing conditions. In fact, as a believer matures in their faith, joy will become more evident in their life.
Many things produce a response of joy. For example, fellowship with God and knowing that God is present and His Spirit is within brings about joy. "
And truly our fellowship is with the Father and with His Son Jesus Christ. And these things we write to you that your joy may be full.
" (1 John 1:3, 4) In Psalm 16:11, the Psalmist writes, "
In Your presence is fullness of joy."
Awareness of God's presence and power in every situation causes joy.
Joy is celebration in the heart of the believer for what God has done. It is expressed in the Bible through music, singing, praising God and jubilant shouting to the Lord. "
Be glad in the Lord and rejoice, you righteous; and shout for joy, all you upright in heart!
" (Psalm 32:11) Although the sounds of joy can be boisterous and vivacious, joy is not an emotion, but rather an inner appreciation and sense of satisfaction due to a spiritual reality.
Joy is the delight expressed when God is victorious over evil, when Godly works are done and when the will of God is accomplished. Jesus taught that when people are rescued from the adversary and brought into the family of God, the angels of heaven have joy. "
I say to you that likewise there will be more joy in heaven over one sinner who repents than over ninety-nine just persons who need no repentance.
" (Luke 15:7) The Apostle Paul was delighted to hear a positive report about new believers in Thessalonica. They had weathered persecution and stood fast in the Lord. Souls saved for Jesus Christ brings joy. "
For you are our glory and joy.
" (1 Thessalonians 2:20)
The walk and life of a Christian can sometimes be fraught with adversity, so it takes tenacity and resolve to stand firm, even in demanding times. As believers act with obedience and faith, God is faithful, fulfilling His promises for His people. "
Do not sorrow, for the joy of the LORD is your strength.
"(Nehemiah 8:10)