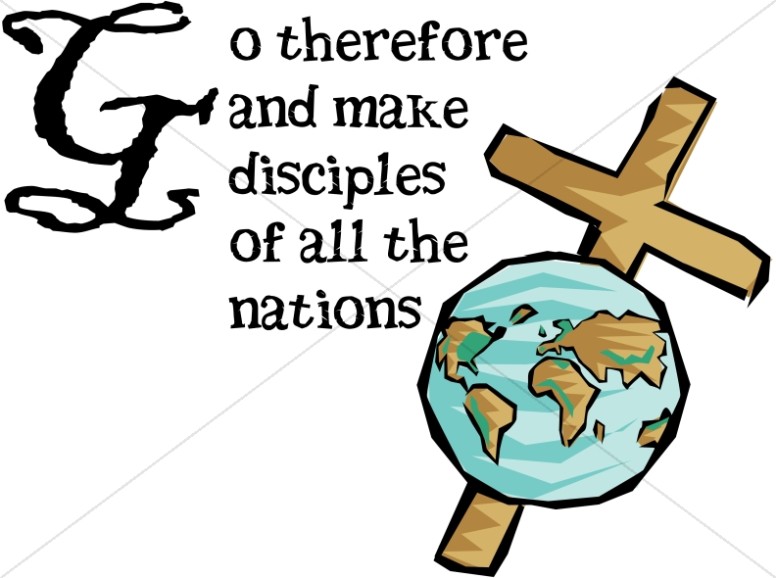 "
Then the eleven disciples went to Galilee, to the mountain where Jesus had told them to go. When they saw him, they worshiped him; but some doubted. Then Jesus came to them and said, "All authority in heaven and on earth has been given to me. Therefore go and make disciples of all nations, baptizing them in the name of the Father and of the Son and of the Holy Spirit, and teaching them to obey everything I have commanded you. And surely I am with you always, to the very end of the age
." (Mathew 28:16-20)
Though the above passage in Matthew 28 is often referred to as The Great Commission, in essence, it is a great command from Jesus. When he spoke to his disciples on this particular occasion, Jesus used a small, two-letter word that he knew would have great impact on his followers, and on the world. He said, "Go."
In the above Scripture, the resurrected Jesus doesn't ask his disciples to consider the idea of going and making disciples, nor does he ask them to pray about it. In fact, Jesus doesn't allow room for questions, arguments or misinterpretations. When Jesus said "Go" he meant immediately and didn't provide an opportunity for the disciples to think he was speaking of a future mission.
Right before Jesus tells the disciples to "Go" he reminds them that he has authority from God, which meant that Jesus could pass that authority on to his disciples. According to the dictionary, a disciple is a follower of Christ. Therefore, when Jesus says "Go," he is speaking to everyone who calls on the name of Jesus and calls themselves a Christian.
In all, Jesus gives five specific commands to fulfill the Great Commission. First he says "Go" as described in Matthew 28. In Mark 16:15, Jesus says to "
Preach the Gospel to every creature
." In Luke 14:47 Jesus includes the word "repentance." Chapter 20 in the book of John uses the word "send" while Acts 1:8 says, "
You shall be witnesses to Me
."
Go. Preach. Repent. Send. Witness. All action words and all necessary to complete the evangelistic mission that Jesus put in place. In addition to the words that require disciples to take action on behalf of the Kingdom of God, Jesus made a promise. Right before he ascended to heaven following his 40 days as the resurrected Christ, he said, "
But you shall receive power when the Holy Spirit has come upon you; and you shall be witnesses to Me in Jerusalem, and in all Judea and Samaria, and to the end of the earth
."
Jesus understood that as mere men, the disciples would be unable to fulfill The Great Commission. So, he promised the Holy Spirit who would empower them to accomplish the work of an evangelist.
The purpose in commissioning and empowering disciples is to ensure that the lost hear the Good News of the Gospel, and that every Christian is enabled to Go and make disciples.