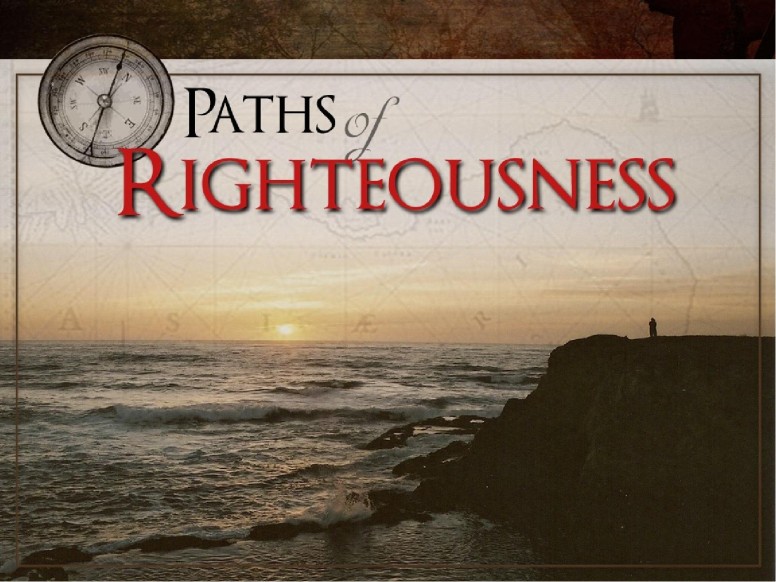 Among the spiritual blessings new Christians receive, one of the most liberating is righteousness. Many Christians live with sin consciousness, listening to and believing the lies of Satan who accuses them
"before our God day and night."
(Revelation 12:10) Satan wants Christians to believe they are not good enough to receive all of God's goodness. The accuser wants Christians to believe that they are just as wicked as they were before Jesus saved them. It is not true. Jesus said of the accuser, the devil,
"There is no truth in him. When he speaks a lie, he speaks from his own resources, for he is a liar and the father of it."
(John 8:44)
But God is true, and it is impossible for God to lie (Hebrews 6:18). He is therefore trustworthy. Just as Abraham was accredited with righteousness because he believed God (Genesis 15:6, Romans 4:3), God has made Christians righteous through faith in Jesus Christ. Righteousness is the God-given ability to stand in the presence of God without any consciousness of sin, guilt or inadequacies.
Righteousness is something God imparts when a person is born again. Romans 10:9,10 provide the essential truths a person must obey to be saved.
"If you confess with your mouth the Lord Jesus and believe in your heart that God has raised Him from the dead, you will be saved. For with the heart one believes unto righteousness, and with the mouth confession is made unto salvation."
At the very moment of believing, God does something magnificent in the new believer, and that person now is and has everything that God accomplished through Jesus Christ. The doctrine of Romans clarifies this:
"For as by one man's disobedience [Adam] many were made sinners, so also by one Man's obedience [Jesus] many will be made righteous. Moreover the law entered that the offense might abound. But where sin abounded, grace abounded much more, so that as sin reigned in death, even so grace might reign through righteousness to eternal life through Jesus Christ our Lord."
(Romans 5:19-21)
Righteousness is not earned; it is obtained from God through faith in Jesus. No person can earn it for themselves. Rather, it is a part of the believer's sonship package, so to speak, because of what Jesus accomplished on the cross.
"For He [God] made Him [Jesus] who knew no sin to be sin for us, that we might become the righteousness of God in Him."
(2 Corinthians 5:21)
There was a time under the Old Testament law that a righteous standing before God could be obtained by doing all the works and commandments of the law.
"Then it will be righteousness for us, if we are careful to observe all these commandments before the LORD our God, as He has commanded us."
(Deuteronomy 6:25) But no one could do it all perfectly, until Jesus Christ, and God accepted Jesus as the substitute for all humanity.
"But of Him you are in Christ Jesus, who became for us wisdom from God and righteousness and sanctification and redemption."
(1 Corinthians 1:30)
In practice, to be righteous is to think and live according to that which is right according to God's Word.
"All Scripture is given by inspiration of God, and is profitable for doctrine, for reproof, for correction, for instruction in righteousness."
(2 Timothy 3:16) It means taking seriously the many admonitions to take off the old man, put on the new man and to begin renewing the mind as Romans 12:2 and other Scriptures teach. New believers must "
think in the same way Christ Jesus does."
(Philippians 2:5 - New International Reader's Version)
Everyone stumbles and falls at times, but this never changes the believer's standing before God as righteous in Christ. The accuser wants to pour on condemnation, but the accuser is a liar.
"For if our heart condemns us, God is greater than our heart, and knows all things. Beloved, if our heart does not condemn us, we have confidence toward God."
(1 John 3:20, 21) As long as a believer is condemning himself for any reason, he has no confidence toward God. This hinders faith, and prevents him from believing for and accepting the promises of God. When a believer sins and damages their alignment and harmony with God, they can go directly to the Father.
"If we confess our sins, He is faithful and just to forgive us our sins and to cleanse us from all unrighteousness."
(1 John 1:9)
Christians have been made righteous by God but, because of shortfalls, they must claim their righteous standing before God. Then they can have confidence toward God and live victoriously.
"My righteousness I hold fast, and will not let it go; my heart shall not reproach me as long as I live."
(Job 27:6)