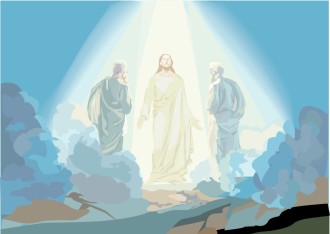 The transfiguration of Jesus in the presence of Peter, James and John is a unique and intriguing event, recorded in three of the four Gospels. It followed Jesus' first announcement to the disciples that he would go to Jerusalem, be killed, but then rise from the dead on the third day.
Jesus asked them and the others, "
Who do men say that I am
?" They answered saying, "
Some say John the Baptist, some Elijah, and others Jeremiah or one of the prophets
." Then He asked, "
But who do you say that I am
?" Peter answered, "
You are the Christ, the Son of the living God
." Then Jesus said that they should tell no one; that he was Jesus the Christ. Jesus went on to say that he had to go to Jerusalem and suffer at the hands of the elders, chief priests and scribes.
Peter took Jesus aside and began to rebuke Him, saying, "
Far be it from You, Lord! This shall not happen to you
!" Jesus responded rather abruptly, saying, "
Get behind me, Satan! You are an offense to me, for you are not mindful of the things of God, but the things of men
."
About a week after this incident, Jesus took Peter, James and John on a high mountain and while Jesus was praying, he was transfigured before them. The Bible says that "
His face shone like the sun, and His clothes became as white as the light
. Moses and Elijah appeared and began talking with Jesus. Peter said to Jesus that it was good for the disciples to be there and offered to make Jesus, Moses and Elijah their own tabernacles. While he was still speaking, a bright cloud came over everyone, and suddenly a voice came out of the cloud, saying, "
"This is my beloved Son, in whom I am well pleased. Hear Him
!"
When the disciples heard the voice, they all fell down, bowing their faces to the ground, terrified. Jesus touched them, asked them to stand up and told them not to be afraid. When they opened up their eyes, the disciples saw only Jesus. As they were leaving, Jesus commanded them, saying, "
Tell the vision to no one until the Son of Man is risen from the dead
."
Many years later, Peter would write: "
For we did not follow cunningly devised fables when we made known to you the power and coming of our Lord Jesus Christ, but were eyewitnesses of His majesty. For He received from God the Father honor and glory when such a voice came to Him from the Excellent Glory: 'This is My beloved Son, in whom I am well pleased.' And we heard this voice which came from heaven when we were with Him on the holy mountain
." (2 Pet. 1:16-18)
John began his gospel with, "
And the Word became flesh and dwelt among us, and we beheld His glory, the glory as of the only begotten of the Father, full of grace and truth
." (John 1:14)
Clearly, the Transfiguration of Jesus would become increasingly significant in the memories of the men who experienced it. They had witnessed the confirmation and the inauguration of Jesus as High Priest, and King.
Since Jesus lives forever, his priesthood lasts forever. Therefore he is able, once and forever, to save those who come to God through him. Jesus lives forever to intercede with God on behalf of mankind. He is the kind of high priest humans need because he is holy and blameless, unstained by sin. Jesus has been set apart from sinners and has been given the highest place of honor in heaven. Unlike other high priests, Jesus does not need to offer sacrifices every day. They did this for their own sins first and then for the sins of the people. But Jesus did this once for all when he offered himself as the sacrifice for the world's sins.
The law appointed high priests who were limited by human weakness. But after the law was given, God appointed his Son with an oath, and his Son has been made the perfect High Priest forever. (Heb. 7:24-28 NLT)